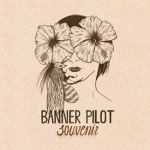 Few bands can evoke a sense of place the way Banner Pilot do. Their music conjures up images of the Midwest, of endless stretches of road and dust, of positivity and hope, all in a seemingly timeless fashion. While their music may be heavily influenced by Jawbreaker and Hot Water Music, at the heart there's the influence of a novelist, lyrically they're certainly rooted in Steinbeck and Kerouac.
Banner Pilot do not tend towards solid, tangible themes for their songs, instead they provide the listener with snapshots and moments frozen in time. Descriptions of place followed by the emotion connected with that place are frequent in 'Souvenir', such as the combination of "on your rooftop drunk in the springtime" followed by "I'm trying but I'm falling down" in opener 'Modern Shakes'. The majority of the songs are written about a proverbial 'you', a lover whose identity is not revealed and sometimes this tense stretches to include 'we', giving a personal touch that draws you into the emotions of the album.
Songs such as the amazing 'Colfax' show Banner Pilot at their strongest, with beautiful imagery and a sense of sublime happiness that runs throughout, it boldly declares "an ugly world suddenly seems so much beautiful now, every drunken word is poetry and weeds turn to flowers somehow". 'Colfax' is the kind of song you listen to on repeat five times without realising you've even done it. Even songs with a bleaker outlook such as 'Shoreline',  with the lines "it's raining like it always does" and "how much shit can one kid take before he has enough", have an uplifting feeling to them.
'Souvenir' is Banner Pilot's fourth album, and while the music is similar to their previous albums, their latest release has a confidence – a noticeable evolution in style. Banner Pilot have found a place that suits them and the result of this comfort zone is astounding. There are still a lot of similar tropes as those found in previous album 'Heart Beats Pacific' however, with lyrics littered with references to cheap wine, skylines and rooftops.
But if 'Heart Beats Pacific' had a wintery harshness to it, 'Souvenir' is a celebratory summer album, with 'Fireproof' going as far to declare, "we can still be happy even if we fall". The final lines of the album declare, "I'm never leaving, this is where out story ends", the obvious happy ending to the story Banner Pilot have spun across 'Souvenir'.
Beautiful and poetic, 'Souvenir' is the perfect soundtrack to summer drives. One of the best albums of this year and the jewel in Banner Pilot's crown, 'Souvenir' is a masterpiece and could, should, be the album that gives Banner Pilot the recognition they deserve.
5/5
'Souvenir' by Banner Pilot is out now via Fat Wreck Chords.
Banner Pilot links: Website|Facebook|Twitter
Words by Jay Sullivan