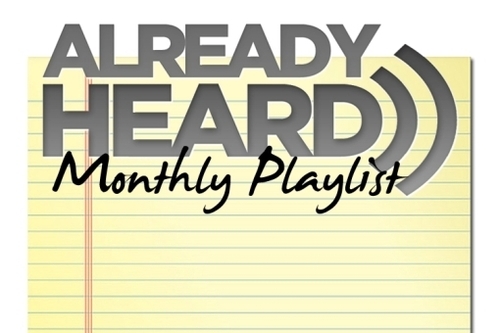 With a new month beginning brings a new Monthly Staff Playlist from us good folk here at Already Heard. Each month we bring you a playlist showing what the Already Heard team have been listening to.
Head on over to our Facebook page to tell us what you think of this months "Staff Playlist."
View the full playlist on our Youtube channel. Whilst a selection of this month's playlist can be streamed on Spotify.
Our Last Night – Mirrors
I'll admit I was torn between two choices for this months playlist. On one hand I had 'These Colours Don't Run' by Architects, and on the other I had this take of Justin Timberlake's ridiculously over-played hit, 'Mirrors' performed by post-hardcore band Our Last Night. Sure its your standard rock cover, but nevertheless its pretty solid as the light guitar riff becomes a central part of the cover, and Trevor and Matt Wentworth's strong vocals bounce off each other to create an affective stamp on one of the biggest pop songs of 2013. I'll definitely be keeping an eye out on what the band do in the coming months. (Sean Reid – @SeanReid86)
'Mirrors' EP by Our Last Night is available now on iTunes.
Our Last Night links: Facebook|Twitter|Tumblr
Counterparts – Witness
This song is from the band's latest album 'The Difference Between Hell And Home' and showcases Counterparts progressing with their metal tinged hardcore sound. The band have created a distinct path for their sound and it gets better with every listen. Counterparts are incredibly underrated and one can only hope that this album finally sets them apart and above from the crowd. (Mikey Brown – @MikeyMiracle)
'The Difference Between Hell And Earth' by Counterparts is available now on Victory Records.
Counterparts links: Website|Facebook|Twitter
Jimmy Eat World – We Are Never Getting Back Together
The whole "punk goes pop" thing has been done to death, but rarely has it produced a song quite like this. Emo demigods Jimmy Eat World repay the favour to pop princess Taylor Swift (she scrawled the lyrics to 'For Me This Is Heaven' on her arm at an awards ceremony) and cover her, erm, world-eating hit 'We Are Never Ever Getting Back Together.' JEW put their own spin on the break-up anthem though, adding appropriate gravitas through Adkins' resigned vocal. This has been stuck in my head most of the month, and now it'll be glued to yours. Sorry about that. (Ollie Connors – @olliexcore)
'We Are Never Getting Back Together' appears on 'iTunes Session' by Jimmy Eat World and is available now.
Jimmy Eat World links: Website|Facebook|Twitter
Love, Robot – Fire Escape
The majority of bands have their ballads, but not many can carry them off with conviction. Love, Robot have nailed it though with haunting lyrics and stunning vocals. Their mighty riffs pack a punch, with vocalist Alexa boasting an impressive vocal range while they have a ridiculous onslaught of catchy hooks. (Jessica Tagliani – @JessTagliani)
'Fire Escape' by Love, Robot is available to download from iTunes.
Love, Robot links: Website|Facebook|Twitter
Taller Than Trees – Terras Irradient
Who ever knew the North East was such a hotbed for emotionally-charged hardcore? Well okay, it's not, but whilst the genre remains dominated by "The Wave" imprint and a handful of bands from the UK's South East, the North East scene is slowly bubbling away, ready to boil over at any moment. Most likely to tip the scales are Middlesbrough's Taller Than Trees, whose debut EP is out now. Lead track, 'Terras Irradient' is an unhinged fucking mess – in the best possible way. Vocalist Paul Gent certainly doesn't hold back, and there's a real cathartic swagger about his delivery that is immediately reminiscent of Touche Amore's Jeremy Bolm. (Christopher Smith – @chrissmith_catp)
'Let Them Give Light To The World' by Taller Than Trees is available now on Bandcamp.
Taller Than Trees links: Facebook|Twitter|Bandcamp.
IWRESTLEDABEARONCE – Thunder Chunky
IWRESTLEDABEARONCE are divisive at the best of times, but add a new vocalist and you'll even plant the seed of doubt in the most hardcore fans. Every album has been a progression away from the hyperactive sound of their debut into less alienating territories, and their latest album 'Late For Nothing' is further evidence of this progression. See for yourself. (James Berclaz-Lewis – @swissbearclaw)
'Late For Nothing' by IWRESTLEDABEARONCE is available now on Century Media.
IWRESTLEDABEARONCE links: Website|Facebook|Twitter
The JCQ – Ghosts Diffuse
I've seen The James Cleaver Quintet (or The JCQ, as they prefer to be called these days) a few times now, and they're never going to be the sort of band you could get tired of. Much of this is down to tracks like 'Ghosts Diffuse', a pounding effort with a catchy keyboard part and a chorus to die for. It's the sort of track that you can leave on repeat for hours, which, on a number of occasions now, I have done. The band's most recent record 'Mechanical Young' is full of tracks like this, and there'll no doubt be many more to come. Hard to complain, really. (Antony Lusmore – @Metacosmica)
'Mechanical Young' by The JCQ is available now on Hassle Records.
The JCQ links: Website|Facebook|Twitter
Tiny Moving Parts – Clouds Above My Head
Tiny Moving Parts' well-travelled style of midwest emo isn't alone in its math rock influences, but the band pushes this crossover to a much more intense and exaggerated place, especially in their new album 'This Couch is Long & Full of Friendship'. This track is a perfect example of the band's tendency to sporadically jump between Merchant Ships-esque chord progressions and intricate guitar-driven passages comparable to TTNG, though often with added urgency and tenacity. (Ben Kosma – @BenKosma)
'This Couch is Long & Full of Friendship' by Tiny Moving Parts is available now on Kind Of Like Records.
Tiny Moving Parts links: Facebook|Twitter|Bandcamp|Tumblr
Nothing – Mine In Clouds
In the past I've been a fan of Brandon Setta's solo songs and also a band he was in a few years ago called Growing Pains. I was recently informed that this is his newest musical endeavour so I had to check it out. It's very different to anything I've heard previously from him but I still think it's great. (Joe Hart – @nottheJoeHart)
'Downward Years To Come' EP by Nothing is available now on A389 Records.
Nothing links: Website|Facebook|Twitter|Bandcamp
Blackwater – By Day & By Night
The subject matter is very close to my heart and it is sung beautifully by Jay Bartlett. The band play this touching song with the delicate attention that it deserves. This song launched their three month campaign to raise awareness about cancer and will conclude with a concert at 100 Club on 30th August. (Heather Fitsell)
'By Day & By Night' EP by Blackwater is available now on iTunes.
Blackwater links: Website|Facebook|Twitter
Northpaw – Artificial Respiration
Since its release earlier this year, my ears are never far away from Northpaw's 'Trepidation' EP, especially this song. From the get go guitarist Spencer Huet's clean vocals catch hold of your attention, while the rest of the band, including unclean vocalist Charlie Grout-Smith drive it home when the chorus erupts. The perfect mixture of aggression and passion. (Carrie-Anne Pollard)
'Trepidation' EP by Northpaw is available now on Bandcamp.
Northpaw links: Facebook|Twitter| Tumblr