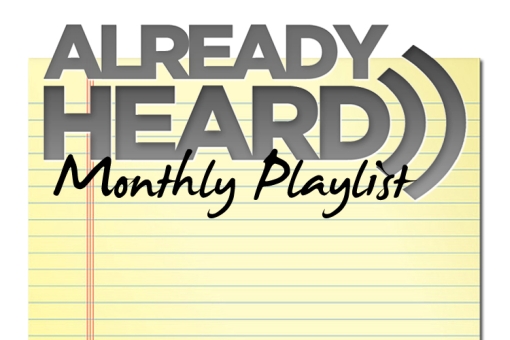 Today we're launching our new "Monthly Staff Playlist" feature. Each month you'll see what the Already Heard team have been listening to and will be able to listen to each playlist in its entirety by clicking on the player at the foot of the page.
Head on over to our Facebook page to tell us what you think of this months "Staff Playlist."
View the full playlist on our Youtube channel.
Tyler Daniel Bean – I Think Its Time To Go Back To Our Original Smoothie Plan
Tyler Daniel Bean's debut solo album, 'Longing' just fell short of making my personal top ten of 2012 however this track ('I Think Its Time To Go Back To Our…') sums up what Bean and 'Longing' is all about. With its aching tone, tight musicianship, and deeply emotional lyrics, 'I Think Its Time To Go Back To Our…' is a compelling number which is just a glimpse of 10 songs of well-crafted, openly emo songs. (Sean Reid – @SeanReid86)
'Longing' by Tyler Daniel Bean is available now on Kat Kat Records
Tyler Daniel Bean links: Facebook|Bandcamp
Transit – Nothing Lasts Forever
Transit's third full length 'Listen & Forgive' gave me a whole new perspective on the band. I've played it countless times over and I'm so excited to hear the rest of 'Young New England'. This little glimpse brings out the style of 'Listen & Forgive' but in a much more positive way which will be perfect for those upcoming summer days. (Mikey Brown – @MikeyMiracle)
'Young New England' by Transit is out on the 1 April on Rise Records.
Transit links: Official Website|Facebook|Twitter
Burn The Fleet – River Song
I recently saw Burn The Fleet at Kerouac's last show, and it reminded me what an incredible band they are. Debut album 'The Modern Shape' is an essential listen, and never fail to sound anything but utterly colossal in the live arena. (Ollie Connors – @olliexcore)
Burn The Fleet links: Facebook|Twitter|Bandcamp
Real Friends – Hebron
I'm a really big fan of Real Friends and reckon they'll be big contenders in the pop-punk scene when their full length comes out. I've listened to their EP 'Everyone That Dragged You Here' countless times. This track is a little different to their usual stuff and is part of their three track EP, 'Three Songs About The Past Year of My Life' but is still worthy of your time. (Colin Henderson – @colinah87)
'Three Songs About The Past Year of My Life' by Real Friends is available now on Bandcamp.
Real Friends links: Official Website|Facebook|Twitter|Bandcamp
Titus Andronicus – In a Big City
I picked this because more people need to like this band. They've been around for a while now and released an excellent album ('Local Business') last year. They're on tour with Fucked Up and Metz in May. (Ryan Clayton – @clayton_ryan)
'Local Business' by Titus Andronicus is available now.
Titus Andronicus links: Official Website.
Invalids – Sherman Is Connector
Invalids are a math rock duo performed by two people that have never actually met. I think this band shows the positive effect the home recording technology and the internet can have on music. Although I'll probably never get to see any of these tracks played live, it kind of makes the album that little sweeter. (James 'J' Leadbetter – @J_Clique)
'Eunoia' by Invalids is available now on Bandcamp.
Invalids links: Facebook|Bandcamp
Frightened Rabbit – State Hospital
Frightened Rabbit's 'Midnight Organ Fight' remains the single most devastating emotional journey I've come across in record form. They haven't managed to emulate the suffocating intimacy ever since but 'State Hospital' comes closest, and simultaneously embraces some of the larger soundscapes the band have delved in on their last two albums. (James Berclaz-Lewis – @swissbearclaw)
'Pedestrian Verse' by Frightened Rabbit is available now.
Frightened Rabbit links: Official Website|Facebook|Twitter
The Ocean Between Us – In Sickness And Wealth
The Ocean Between Us speak of very real issues that trouble and affect many of today's youth and for this reason I think that their music speaks to those members of the music listening public who have had similar hard life experiences despite their young age. I think they are a band whose words and music need to be listened to and to reach a wider audience, which is why I am telling you to go and listen to them. (Heather Fitsell)
'Saviour Faire' by The Ocean Between Us is released on 25th March on A Wolf At Your Door Records.
The Ocean Between Us links: Facebook|Twitter
Escape The Fate – Ungrateful
I've chosen Escape the Fate because their new single, 'Ungrateful,' is a huge turning point for the band. They're mostly known for all the wrong reasons – namely, the feud that's gone on between ex-vocalist Ronnie Radke and the rest of group, though many will also remember the departure of ex-bassist Max Green, who also suffered from drug addiction. But the release of 'Ungrateful' shows, in my opinion, the band coming back with a stronger and far more solid line-up, and a brighter future. (Jessica Tagliani – @JessTagliani) 
Escape The Fate links: Official Website|Facebook|Twitter
Barrow – Wither
Barrow's 'Wither' from their new album is thought provoking emotive music done well. Brought to my attention through the site, they're an interesting band who take more than a couple of listens to really appreciate.
'Though I'm Alone' by Barrow on March 19th through Mayfly Records. (Robert Maddison – @bertmaddison) 
Barrow links: Official Website|Bandcamp
Bring Me The Horizon – Antivist
Another song released from the highly anticipated new album 'Sempiternal,' showing exactly why they are one of Britain's biggest bands. An immediate anthem that will sound huge live with the crowd shouting along. Shows just how far Bring Me The Horizon have evolved, and they don't hold back at all. (Aaron Wilson – @soundslikeajw)
'Sempiternal' by Bring Me The Horizon is released on 1st April.
Bring Me The Horizon links: Official Website|Facebook|Twitter
Up And Atom – Newport
This track from Australian pop-punkers Up And Atom (the pun is totally intended) is catchy as hell yet side steps the sugary cliches often associated with the genre: you can hear the fire in their bellies. (Sarah Louise Bennett – @slb_photo)
'Growing Pains' by Up And Atom is available now on Soup Based Records.
Up And Atom links: Official Website|Facebook|Twitter
Hammers – A Coffin in the Shape of a Chapel
Hammers really impressed me when I saw them in the basement of a small pub a couple of weeks and did a performance of which proved them to be the real deal. Crushing metallic hardcore from Manchester with some intricate musicianship around the edges and a sense of majesty underneath the heavy exterior. 2013 sees the band releasing a new 7" and playing shows with Narrows, Coliseum, The Secret and Deafhaven. The band are also set to embark on a mini tour with We Came Out Like Tigers in April; don't miss out! (Aaron Lohan – @ooran_loohan)
'Vardøgr' by Hammers is available now on Adagio830, Pain of Mind and Win Htein Records.
Hammers links: Facebook|Twitter|Bandcamp
Godard – Fountains
Godard play awesome pop punk in the style of Brand New and Gnarwolves. Seeing them again recently reminded me how rad/heavier they are live. (Richard Heaven)
'Pizza Throwing' by Godard is available now on Don't Shoot The Messange.
Godard links: Facebook|Bandcamp|Tumblr
Peace'd Out – Cha-Chang-Chang-Chainma
I've chosen this song because there's something so unique about the band and this song in particular is quirky and captivating; the mixture of Vinnie Caruana's powerful vocals and the energetic hooks really make this track worthy of being on the playlist. The band is composed of members from various bands and their combined influences make their sound really raw and fresh (Hannah Gillicker – @HannahGillicker)
Peace'd Out links: Facebook|Twitter
Off With Their Heads – Nightlife
Punk rock stalwarts Off With Their Heads return with their third studio album 'Home' in March; This track, 'Nightlife,' showcases a more refined sound from this gruff punk band and whets the whistle for what is sure to be one of the albums of the year. (Tom White – @whiteywitters)
'Home' by Off With Their Heads is out on the 12th of March on Epitaph Records.
Off With Their Heads links: Facebook|Twitter