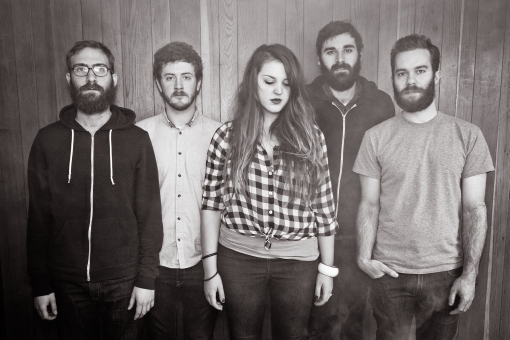 Based out of Westchester, New York self-proclaimed "folk & roll" quintet This Out Ghost recently released their début full-length, 'Family Room' a record that draws inspiration from the likes of Death Cab For Cutie, The Shins and Good Old War and blends with warm, comforting melodies.
Tracks like 'Foreign Language' and 'Twenty Six' are full of youthful optimism, whereas 'Dirt Road' has yearning matureness that is plain and simply satisfying. 'Family Room' proves to be a consistent album that hits all the right spots and makes This Out Ghost the perfect choice for "Recommends". 
We caught up with vocalist Ian McGuiness who formed the band after moving back home from Los Angeles. McGuiness discussed how the band came together, using Kickstarter to fund 'Family Room' and more. 
Already Heard: Can I ask who I am speaking to today and what your role in This Old Ghost is?
Ian McGuinness: Yes! This is Ian McGuinness. I play acoustic and sing in the band.
For readers who have yet to hear 'Family Room'. How would you summarise the bands sound?
IM: We like to call ourselves a Folk & Roll band. We've been deemed Power-Folk too but I think that was more of a live-show branding. At its core, our music is intelligible, sincere pop. Everything revolves around the melodies. They carry the song.
AH: From hearing the record, I get the feeling it's a warm indie rock record that sees comparisons to bands such as Death Cab For Cutie and Good Old War. Were there any bands in particular that have influenced This Old Ghost's sound?
IM: Absolutely and you're right on the money with Death Cab and Good Old War. If it wasn't for Good Old War, I'm not sure our band would exist. I always have a hard time interpreting my adoration for them but they've had a significant affect on my growth as a song-writer. And Death Cab is one of those bands who inspires hope that it is possible to make great record after great record. I don't know how they do it.
<a href="http://thisoldghost.bandcamp.com/album/family-room" data-mce-href="http://thisoldghost.bandcamp.com/album/family-room">Family Room by This Old Ghost</a>
AH: I understand you formed the band after moving back home to Westchester, New York. Can you tell us a bit more about how the band came together? Was it an easy process?
IM: It was actually pretty easy to put this band together. I had a lot of things I wanted to accomplish when I moved back to NY and starting a band was at the top of that list. I started the process in Los Angeles by scouring Facebook friends for potential bandmates. I reached out to our drummer, Robbie (Pizzolato – drums) who I went to high school with. Then, I reached out to Karri (Diomede – Harmony & Flute) after reading a post about jamming with another dude I went to high school with. I wasn't even sure what instrument Karri played (if any) or if she sang. She responded to my message "I play the flute and sing harmony". At that point, my mind started racing with all of the possibilities. From there, Karri recruited Brendan
AH: Your debut EP 'Island of Violent Lovers' received plenty of praise from several publications and websites. Did this add any pressure or expecations when it came to recording 'Family Room'?
IM: Actually, it did the opposite. I knew I liked the songs on the EP but I wasn't sure anyone else was going to dig them. When we started getting positive feedback, I was like "Oh, shit. This might end up being a real band." Even before the EP came out I had a few songs I was working on which felt more mature than most of the songs on "IOVL ". At that point I knew there would be a nice progression from "IOVL" to the next record. The only pressure I felt was self-produced. I wanted to make something that I was proud of. Something honest that I would listen back to years from now and smile.
AH: To fund the recording of the album you used Kickstarter. What was your decision behind this move?
IM: Pure necessity. We didn't have the funds to make a full length record. The only way it was possible for us to cover the costs of recording, mixing and mastering was to raise money. We utilized Kickstarter for 'Island of Violent Lovers' and that was successful so repeating the process for "Family Room" was an easy decision to make.
AH: How beneficial was the Kickstarter service to making the record?
IM: Kickstarter was imperative in making this record. They have a great business model and it works
AH: You worked with Eliot Geller and Greg Dunn on the record. How important was it to have them on board for the making of the record?
IM: They were both incredibly potent forces on this record. During the recording process, Eliot threw his producer cap on and ushered our visions. He's also super organized which helped cause I was not.
AH: 'Family Room' has been out for a couple of weeks now. How has the feedback been so far?
IM: It's been amazing. The songs are resonating with people and they're connecting on personal, intimate levels. We couldn't be happier.
AH: Following on from the album release, what else can we expect from This Old Ghost in the coming months?
IM: Live shows! We are planning to spend as much time as humanly possible on the road. Our East Coast tour starts at the end of February.
AH: Finally what else should the Already Heard readers know about This Old Ghost?
IM: We smile a lot. It's because we are incredibly fortunate to do what we do and we know that. You have to make time for the things you love. It's so very important.
'Family Room' by This Old Ghost is available now on Bandcamp and iTunes.
This Old Ghost links: Official Website|Facebook|Twitter|Tumblr
Words by Sean Reid