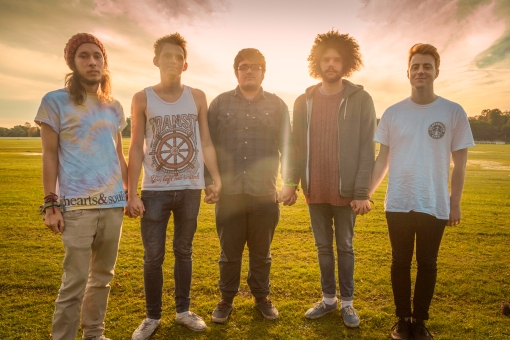 Today we're launching the first instalment of a new feature called "Tour Tales" which documents a bands recent travels on the road. 
To kick off the feature, Leeds Pop Punkers Calls Landing talk us through the first two days of their current Already Heard-sponsored UK tour alongside fellow hometown band Make Your Mark.
Calls Landing drummer Charlie Thomas:
Hey there, the first day of our tour with Make Your Mark started in Sheffield, with a primarily hardcore lineup we had a little challenge to get the crowd on our sides but it was a fun show and a nice starter for the week. Our tour buddies from before Christmas A Season of Secrets joined us on the bill and also in Leeds too. It's been ace to see those guys again.
Day One: Sheffield
Before the show, we explored around the local PMT music shop, lusting over guitars and playing the electric drums following Cam's bass head breaking before we'd even played a show, haha.
Having a trailer and trying to park it, caused some 17 point parking by our driver Bellwood and us just wheeling it into the parking spot outside Corporation ready for the night out, of which Joe (Armitage – vocals) pre-drunk at the merch table and got more and more merry as the gig progressed! We threw some shapes to the music of The Bouncing Souls in Corp and indulged in the incredibly cheap alcohol, £2.20 for a quad vodka. Wow.
Day Two: Leeds
Last night we played in Leeds and it was a really special night, the show sold out in the end and seeing heads right to the back for ourselves and Make Your Mark's set was amazing. It was so much fun to spend the night in the company of best friends and family. As Jonny said during our set, being able to headline Cockpit 3, have the show sell out and see people watching right to the back of the room has been a dream of ours. Thanks to all that came down and JD & Ben/Slam Dunk for putting the show on. 
Before the show we had a little communal burrito trip to Barburrito upon which Don from MYM looked puzzled as to why he had no chop sticks with his nachos or burrito, which in turn caused myself and Dan (MYM guitarist) to laugh a lot! Haha. 
Over the first 2 days it's been so cool to see how Sheffield's scene compares with Leeds and how there's a similar buzz, but very much for Hardcore in Sheffield and Pop Punk in Leeds. It's been cool to dip into other scenes and hopefully stretch peoples minds, introducing them to something fresh. 
As I write this I'm recovering from a hangover following Slam Dunk club night last night in my flat, not in the van on the way to Leicester. The promoter sadly had to pull the show, Bristol is on tomorrow night though (Thursday 21st)! 
Thanks for reading and coming to a show if you have so far! 
Tour Jams:
Death Cab for Cutie – Plans
Diamond Youth – Don't Loose Your Cool
Ivy League – S/T
Balance and Composure – Separation
Into It. Over It. – Proper
Seahaven – Winter Forever
Trapped Under Ice – Big Kiss Goodnight
February
Thu 21st Bristol, The Lanes
Fri 22nd Manchester, Zoo (Deadbolt clubnight, free entry with ticket)
Sat 23rd Newport, Le Pub
Sun 24th TBC
Calls Landing links: Official Website|Facebook|Twitter|Bandcamp
Make Your Mark links: Facebook|Bandcamp|Twitter|Tumblr
If you would like Already Heard to promote and sponsor your tour/show or set up an "Already Heard Tour Blog" feature, send an e-mail to info@alreadyheard.com for more information.