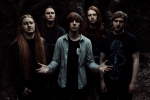 Bleed From Within have launched a crowdfunded campaign for a unique four track EP consisting of 2 brand new songs featuring guest musicians and two covers, one which will be chosen by fans.
Full details of the Indiegogo campaign can be found here.
The Scottish metalcore band will be touring with DevilDriver and Sylosis this month.
April
Thu 3rd Cardiff Solus
Fri 4th London Electric Ballroom
Sat 5th Wolverhampton Wulfrun
Sun 6th Glasgow Garage
Tue 8th Dublin Academy
Wed 9th Manchester Academy 2
Thu 10th Southampton Mo' Club
In additional news, the bands second full-length is scheduled to be released in early 2015 on Century Media Records.