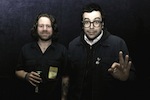 Xtra Mile Records have signed Drag The River and will release the bands new self-titled album on 15th October.
1. Wichita Skyline
2. Not That Kind
3. Black In Bloom
4. Ghosts of High School
5. Like Longfellows
6. Here's to the Losers
7. the Other Side of OK
8. History with History
9. Waste of Time, Valentine
10. Song for My Roommates
In addition the bands 2008 debut 'You Can't Live This Way' is being re-released digitally on the same day.
1. Death of the Life of the Party
2. Rangement
3. Brookfield
4. Fleeting Porch of Tide
5. W.W. Too
6. Tobacco Fields
7. Defy the Moon
8. Caleb's Grave
9. Lying in the Feel
10. Lost Angel Saloon
11. Br00tal
12. Pre-Post Party
13. Lizzy
14. Bad Side of a Good Time
15. You Can't Live This Way