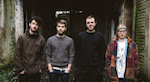 Blackburn quartet genre-blending Egos At The Door have announced they will release their self-titled EP on March 10th through Lockjaw Records (UK) and Souljolt Records (US).
1. For Lack of Better Words
2. Salad
3. (Interlude) I
4. I need an excuse to think
5. (Interlude) II
6. With my tiny. Tiny mind.
7. Polar Perspectives I
8. Polar Perspectives II
The band have also posted a live session video for a track called 'Polar Perspectives I'.