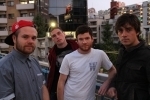 Enter Shikari have released a new live CD/DVD called 'Live In The Barrowland. Dec 2012 (Bootleg Series Vol.5).
The set was filmed at the first of two nights at Glasgow's legendary Barrowland Ballroom late last year and is available as a 2xCD + 1xDVD set.
The release is available through the bands online store and all copies are signed by the band.
A video of 'Gandhi Mate, Gandhi' from the set can be viewed by clicking read more.