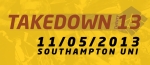 Fearless Vampire Killers, Idiom, Turbogeist  and Palm Reader are the four latest bands to be announced for Southampton's Takedown Festival.
They join the rest of the line-up which consists of:
The Blackout
Don Broco
Mallory Knox
We Are The Ocean
While She Sleeps
Arcane Roots
Max Raptor
Glamour of the Kill
Hacktivist
Tesseract
Collisions
Red Seas Fire
Takedown Festival takes places on Saturday 11th May at Southampton University.
Visit takedownfestival.co.uk for more information.