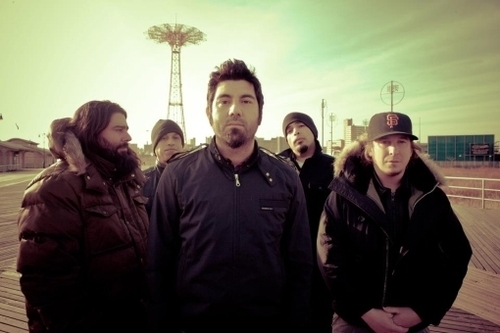 Here at Already Heard, we bloody love Deftones. They're back in the UK once again later this month to play the Reading and Leeds Festival (again!)
Having constantly produced outstanding album after outstanding album, the Sacremento band made it difficult for this edition of "Fives".
Nevertheless our writers have plucked out five of the best Deftones songs, and trust us when we say it wasn't an easy task.
Check out our choices and let us know what your favourite Deftones tracks on in the comments below on our Facebook page.
You've Seen The Butcher
By the time 'Diamond Eyes' came out, Deftones were a musical force in their own right; having shed the negative associations of nu-metal, when so many other bands became buried under them, they came out as cream of the crop. With that much respect and pressure, you wouldn't be remiss to think that they would have kept on the path with more droning alt-metal songs. Instead, they dropped the tunings, added extra strings to their guitars and stepped up the groove. 'You've Seen The Butcher' is a perfect example of this. By shifting the droning wall of sound guitars to a more ambient whir, this songs showcases their diversity in both songwriting and tonality. On top of that, the chorus in particular is just plain sexy. As well being one of the best songs from 'Diamond Eyes', it is at its core an expression of Deftones' ability to constantly refresh their sound without losing its individual charm. (BK)
Digital Bath
On a record ('White Pony') which, in the eyes of mine and many others is Deftones' finest, 'Digital Bath' is one of its very greatest moments. From the moment those drums and Frank Delgado's haunting soundscape come in, closely followed by a simple, clean guitar line and Chino Moreno's hushed tenor, this song is an emotional rollercoaster from beginning to end, as the quiet-LOUD-quiet-LOUDER dynamic is used to its fullest potential. Perhaps the most disturbing feature of this song is that, though Moreno is singing about drowning his lover, he is simultaneously both at his most powerful and most seductive within the same minute at points, and the screeching four bars that signal this song's climax reach their aim by instilling pure terror into the listener lulled into a false sense of security by the song's path to that point. 'White Pony', one of the greatest albums of all time in this writer's eyes, boasted many great moments, this being among the best of them. Enjoy. (OC)
Swerve City
The opening cut from the bands latest record ('Koi No Yokan'), 'Swerve City' sees the quintet provide a confident and bold number which serves as a stark reminder of what makes Deftones so fucking awesome. Heavy, bombastic riffs mixed with a cinematic undertone that makes the band sound HUGE! Add to that Chino Moreno's soaring vocals, and you've got yourself a bonafide Deftones classic. (SR)
Passenger
If there was one song that defines the sheer majesty that is Deftones, then I would say 'Passenger' without hesitation. This song is taken from the band's definitive 'White Pony' LP. The vocal interplay between Maynard James Keenan of Tool and Chino Moreno is simply breathtaking, as they ride along the suspense filled atmosphere. The dynamic shift from the softly whispered verse and piano into the loud chorus and throttling heavy output is magnificent. If you are new to Deftones, then this song is the first thing you should hear. (AL)
My Own Summer (Shove It)
The first time I became aware of Deftones was when 'My Own Summer (Shove It)' was on heavy rotation on MTV2 when I was a teenager. Although it mistakenly got the band grouped with the "Nu-Metal" tag at the time, it is still an early career highlight for the band. Its raw, brooding opening has you hooked from the start, and then explodes in the chorus as Chino cries "Shove It! Shove It! Shove It". Undoubtedly one of their heaviest moments yet it set a template of what was to come with future releases; subtly intense and filled with adrenaline. (SR)
Deftones links: Website|Facebook|Twitter
Words by Sean Reid (SR), Ben Kosma (BK), Ollie Connors (OC) and Aaron Lohan (AL).