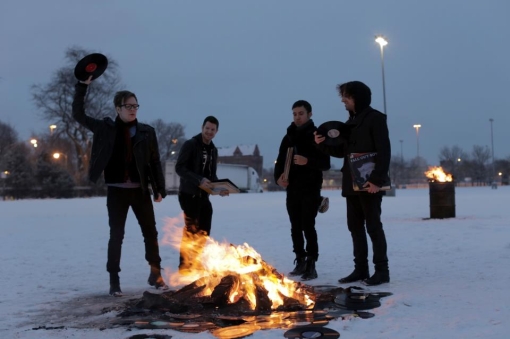 After 3 years away and much speculation, Illinois' Fall Out Boy are back and following their triumphant return to the UK earlier this week, they're the perfect candidate for our "Fives" feature.
With a discography of four albums and a back catalogue filled wall to wall with awesome pop-rock/pop-punk stompers, we're frankly spoilt for choice for this edition of "Fives".
Formed out of Wilmette, Illinois in 2001, vocalist Patrick Stump, bassist Pete Wentz, guitarist Joe Trohman, and drummer Andy Hurley plied their trade in local hardcore bands before coming together. Since then the quartet has made their rise to Pop Punk kings, which explains why fans went into overload earlier this month when they ended a three year hiatus and announced a new album — 'Save Rock and Roll'. 
From the pop-punk perfection of their early days right up to their slick, radio-friendly they're perhaps better known for in some circles, Fall Out Boy have never failed to deliver outstanding songs. Their influence continues to grow as bands within "scene" live off FOB's knack of long, quirky song titles and hook-filled numbers.
Head on over to our Facebook page to tell us what you think to our choices and what your favourite Fall Out Boy songs are!
'This Ain't A Scene, It's An Arms Race' (from 'Infinity On High')
The lead single from 'Infinity On High' starts off with a funky, hi hat off beat verse whilst Joe's guitar melody keeps on looping round and round and round. You can certainly get your head around the lyrics, but the hooks come in on the pre-chorus before wiping you clean off your feet for that chorus! This song was certainly the transition for Fall Out Boy becoming even more of a pop act. Oh, and if you haven't air drummed to this song you haven't lived. (Psst! Try it now!) (MB)
'Nobody Puts Baby In The Corner' (from 'From Under The Cork Tree')
As if that rapid drum fill at the beginning wasn't enough, the song launches into a nicely 3:21 minutes of hooks, melodies and all of those lyrics rolling off Stump's tongue. An honourable mention has to be the middle 8 of "So wear me like a locket around your throat/I'll weigh you down I'll watch you choke/You look so good in blue/You look so good in blue". I sang it when I was 15 and I still sing it now. And that chorus will wrap itself inside your throat as well. All the sing alongs for possibly the catchiest track on this record. Lyrically it's certainly up there. (MB)
'Saturday' (from 'Take This To Your Grave')
Although a fantastic debut, Fall Out Boy's 'Take This To Your Grave' doesn't quite hit the heights of latter-day material. Fast, fun and exuberant it may be, but they hit their stride on the flawless follow-up 'From Under The Cork Tree' and the pop nirvana of 'Infinity On High.' However, '…Grave' gave me what is to this day my favourite Fall Out Boy song, the wonderful 'Saturday'. A relentlessly optimistic anthem with a driving rhythm throughout, the lyrics centre around the band's focal point, chief lyricist and bassist Pete Wentz and vocalist Patrick Stump adopting a "two against the world" attitude and grabbing life by the horns, shaking off procrastination and instilling some well-needed self belief. The song contains a typically wonderful Stump vocal performance, but also an impressive scream from Wentz – lest we forget, at the root of it FOB were a bunch of hardcore kids who formed a pop-punk band as a joke, and Pete allows a rarely seen side of his vocal talent to shine. The fact that this song has closed out every single night of their ongoing reunion club tour ten years after release is a testament to its status as a band/fan favourite. The band may have gone on to bigger and better things since this song, but "Saturday" is just under four minutes of pure fist-pumping, arms-aloft pop-punk euphoria. (OC)
'The Patron Saint of Liars and Fakes' (from 'Take This To Your Grave')
From the opening thud of drums and the brooding bass line, 'The Patron Saint of Liars and Fakes' is a special Fall Out Boy song. Angry, adolescent angst is summed up with the chorus, possibly the most cathartic thing to shout ever; "AND WHEN IT ALL GOES TO HELL, WILL YOU BE ABLE TO TELL ME SORRY WITH A STRAIGHT FACE." It is a perfect break-up line spat with pure venom. It is the more than fitting conclusion to one of the greatest records written about the painful process of growing up. (TW)
'G.I.N.A.S.F.S' (from 'Infinity on High')
As a record, 'Infinity on High' is often pointed to as the point that Fall Out Boy "sold out;" they betrayed their loyal punk routes by creating a bastardized hybrid of a record featuring gospel choirs and Jay-Z. However, it is also one of the most hit-stacked records the band have made with many hidden gems that don't get discovered for many listens. The best of these is 'G.I.N.A.S.F.S;' (standing for 'Gay Is Not A Synonym For Shitty,' FYI) not only a great acronym, but one of the catchiest Fall Out Boy songs. The song opens with a beefy, classic rock-sounding riff and Patrick Stump wailing "I've loved everything about you that hurts so let me see your moves, lips pressed close to mine, true blue" (a line and delivery that once heard cannot be scrubbed from your sonic memory.) The vocals are soulful, the tempo upbeat with characteristically witty lyrics and an irresistible chorus. It is, quite frankly, a perfectly rounded pop-punk song. Now press repeat. (TW)
'Save Rock and Roll' by Fall Out Boy is released on 15th April on Island / Decaydance.
Fall Out Boy links: Official Website|Facebook|Twitter
Words by Sean Reid, Mikey Brown (MB), Ollie Connors (OC) and Tom White (TW).