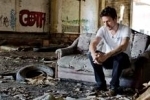 Frank Turner is set to appear on an episode of BBC's 'Celebrity Mastermind' on 3rd January.
The singer's specialist subject will be on Iron Maiden.
Turner commented on his appearance on his own fan's forum:
"I am going on the show, yes. Actually, going on Mastermind has been a dream of mine since I was a kid. I'm such a dork."
Frank Turner will be on a major UK headline tour in February. Support comes from Flogging Molly and Beans On Toast.
February
Thu 6th – Cardiff Motorpoint Arena
Fri 7th – Nottingham Arena
Sat 8th – Edinburgh Corn Exchange
Sun 9th – Manchester Arena
Tue 11th – Plymouth Pavillions
Wed 12th – London O2
Thu 13th – Portsmouth Guildhall