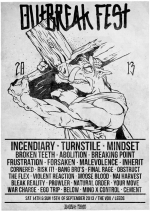 The final lineup for this years Outbreak Fest has been announced. The two day festival will take place at The Vox in Leeds on 14th and 15th September.
The lineup includes headliners Incendiary, Mindset and Turnstilewith other names such as Moose Blood, Broken Teeth, Nai Harvest, Malevolence and Breaking Point set to play.
Tickets can be purchased here, and the full lineup can be viewed by clicking read more.