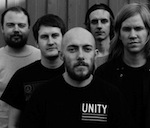 Goodtime Boys have announced their debut full-length album, 'Rain', will be released on May 20th via Bridge Nine Records.
1. Washout
2. Wallflower
3. Doubt
4. Life Moves
5. Dandelion
6. Hypocrisy
7. Cloudbursts
8. Moral Decay
9. Daydreamer
10. Folsom
11. Newspaper Sky
12. Downpour
In addition to 'Rain', Goodtime Boys will release a precursor 7" on February 25th called 'Things I Still Don't Understand'. This two-song EP features 'Rain' album track 'Life Moves' as well as a cover of Billy Bragg's 'Tank Park Salute.'
Goodtime Boys will be supporting Defeater on their UK tour later this month alongside Caspian and More Than Life.
January
16 Brighton The Prince Albert (Goodtime Boys headline show)
19 Bristol The Fleece
20 Sheffield Corporation
21 Glasgow Classic Grand
22 Manchester Sound Control
23 London Underworld