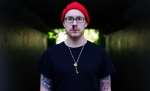 Harry George Johns, formerly of Dinosaur Pile Up and Old Romantic Killer Band, has announced he will release his début solo album, 'Post Breakdown Blues' on 11th February.
1. Tie Your Own Noose
2. All You Can Do
3. Drink Myself To Sleep
4. Sleep Is The Cousin of Death
5. Morning Song
6. Hospital Blues
A free song entitled 'Hospital Blues' can be downloaded by clicking read more.