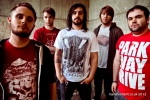 Vocalist Callis has announced he is leaving Portsmouth Post-Hardcore group Housefires.
Callis posted the following message:
"I'm sad to announce that I (Callis) will no longer be able to commit to my role as the frontman of Housefires. There's a number of reasons for me making this tough decision, however they are mostly personal so I'd rather not go into them.
There's no hard feelings, I wish the rest of the lads the best of luck for the future and I will be playing one final farewell show in the new year. As I'll no longer be a part of the band I can't comment on what's happening next in regards to replacing me, but I'm sure there will be some kind of announcement soon.
I'd like to thank everyone and anyone who's supported the band over the last year and a half, I've met some great people and made some good friends inside and outside of the band. I would also add that I apologise for anything I've broken or anyone I've hurt but that would be a hideous lie!
Thanks again,
Callis. x"
Housefires released their début EP, 'Before The Ceiling Caves' earlier this year.