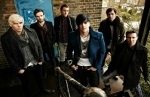 This past weekend, the Daily Mail published a story which stated shamed former Lostprophets vocalist Ian Watkins has earned an estimated £100,000 from songwriting royalties.
The story states as the primarily lyricist for Lostprophets, Watkins receives money from any radio or public airplay of any Lostprophets.
Music lawyer Craig Brookes explained that since the news of Watkins' disgraceful and appalling child sex acts emerged last month, there has been a spike in interest in Lostprophets in both album sales and internet searches leading to the band and Watkins receiving royalties.
The full story can be viewed here.
Watkins is set to be sentenced tomorrow (Wednesday 18th December).