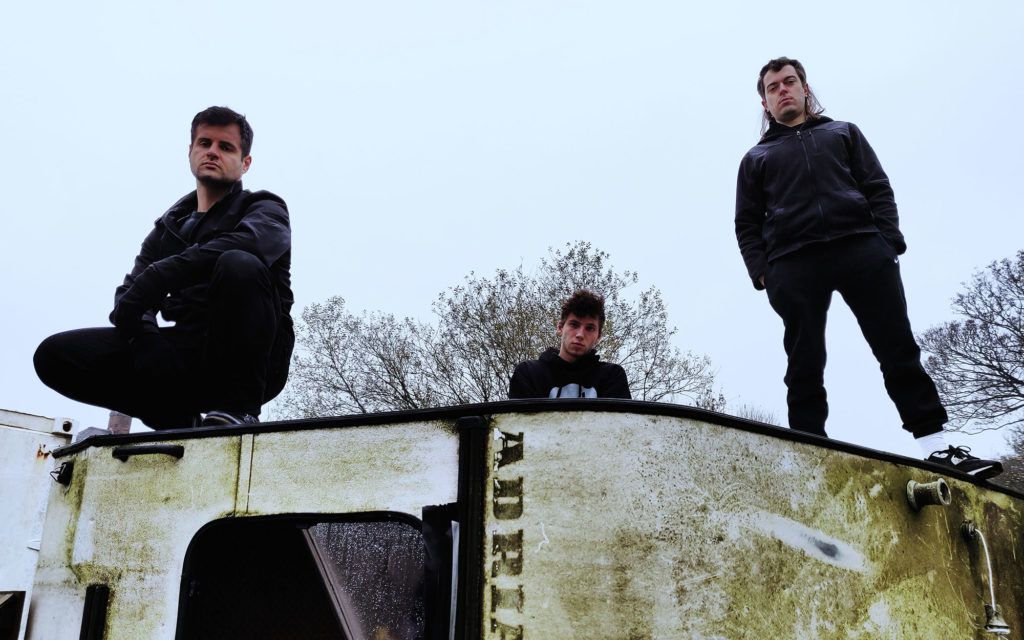 There's something quite peculiar about Steel City three-piece Kurokuma. Since their formation in 2014, they've developed a cult-like following through their brand of intriguing brand of heavy music. Taking in elements of sludge, doom and psychedelic, the trio have a tendency to easily (and unexpectedly) compel you. For example, take their new EP, the bizarre and assuredly titled 'Sheffield's Best Metal Bands Vol. 1'. Beginning with an ominous synth, distant crows hawking, 'RVN' is frankly unsettling, yet the array of downright heavy riffs bring a sense of normality to it all.
While 'Deeper Underground' is apparently a Jamiroquai cover but you wouldn't know. Stretched over 10 minutes, it sees Kurokuma at their most experimental with ambient instrumentation and sustained chords giving way to a thoroughly heavy groove.
It's clear Jake, George and Joe E thrive on keeping things a little weird. Their music can be confusing yet strangely addictive. So it made perfect sense to find out who they consider their influences. Thankfully guitarist/vocalist Jake and drummer Joe E Allen were happy to pick out seven inspirational records.

Follow us on Spotify for more playlists.
Faith No More – Angel Dust
Jake: Faith No More were always unashamedly themselves. As we progress as a band, I've started to see how outside influences (labels, money, management) can dilute an artist's original vision. I can only speculate how much this influenced FNM, but considering their size, it never felt like their integrity was significantly compromised. They turned rock tropes on their head, celebrating and mocking the genre in equal measure while always pushing themselves forward. Their sound may not get much airtime in Kurokuma but their attitude certainly does.
Necro Deathmort – This Beat Is Necrotronic
Joe: A lot of this album is doom plus something else. It's hard to put your finger on what the something else is because the result is so unique, even now, and the album seems to pull from so many other places – trip hop, dub, ambient, breakbeat. This kind of thing is inspiring.
Alchemist – No Peace (with Trash Talk)
Alchemist made these tracks for Trash Talk's 2014 album, 'No Peace'. The rest of the release is straight up hardcore but these two beats bookend it at the start and finish and add a lot, breaking down the walls of genre and going off just a vibe. Also, this came out on Odd Future.
Ozric Tentacles – Jurassic Shift
Joe: Words don't do this track ('Pteranodon') justice. Otherworldly sounds and instruments buzz around a massive canal-sized bass groove. The concept is simple but there's a ridiculous amount of texture and atmosphere.
Komara – Komara
Joe: The horn line on this track ('37 Forms') is one of my favourite aspects of any piece of music/ I'm captivated every time I listen to it. The percussion gives things a tribal feel, and then when everything kicks in it sounds like the soundtrack to the jurassic period. It's evocative and something of this depth is definitely what we aim for with Kurokuma. You'd expect no less from a King Crimson side project.
OM – Advaitic Songs
Jake: OM are one of the few doom bands I can really get behind and 'Advaitic Songs' is their best release by a mile for me. It's like the mystical element of Sleep amplified while dropping the dumb lyrics, knuckle-dragging weed puns and goofy plodding guitar lines. Every element has grace, movement, flow, passion and truth. Truly worthwhile goals when writing music for me.
Dadawah – Peace and Love
Jake: The term 'spaced out' implies a travelling outwards, experiencing things beyond the cosmic horizon. Far more interesting is to invert this, to go deeper within in a very organic manner into our own being. With its reverb-laden guitar lines, Nyabinghi drumming and uttered mantras, 'Peace and Love' is like a shortcut to this place. I like to think we create a space for people to explore this same feeling, even if only peripherally.
https://youtu.be/0jUCwXHk_8w
'Sheffield's Best Metal Bands Vol. 1' EP by Kurokuma is released on 3rd May.