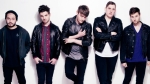 Welsh five-piece Kids In Glass Houses have premiered the second song from their forthcoming album 'Peace'.
The track is called 'Black Cloud' and can be streamed by clicking read more below. The band have also revealed the tracklisting for 'Peace'.
iTunes Deluxe Tracklisting:
1. Peace
2. Drive
3. Set Me Free
4. VIP
5. Novocaine
6. Stormchasers
7. Runaways
8. Up All Night
9. Black Cloud
10. Nightcrawler
Bonus Tracks:
11. Drive – Downbeat
12. Set Me Free – Downbeat
13. I'm A Wake (You're A Real Party)
14. My Def Posse 2.0
15. Kid Gloves
'Peace' is set to be released on 30th September via Transmission.