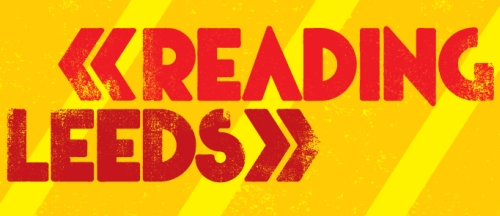 The oldest popular music festival still in existence is back for another year, bigger than ever before. Two more stages (the BBC Radio 1Xtra stage and a dedicated Dance Tent, which allows the Lock-Up/Rock Stage to move to three days) augment the already humongous line-up, bringing punters the best in indie, rock, alternative, punk, dance, metal, hip-hop and much more besides. Over three days on the August bank holiday weekend, alongside its sister festival Leeds, the twinned sites bring in around 200,000 people through its gates each year. Here's just some of what was on show.
FRIDAY
The weekend kicked off with Palm Reader (3/5), the Woking quintet blasting out cuts from recent debut full-length 'Bad Weather'. Although the atrocious sound hampered them (you'll see a theme emerging here), it wasn't enough to hide their rather generic style. Frontman Josh McKeown seemed to be going for the full house on Every Metalcore Frontman Ever Bingo, and comparisons to their more scintillating peers in UK hardcore seem a little unjustified. Much was expected, and little was delivered. However, the same cannot be said of Tripwires (4/5), a band of Reading locals I stumbled across on the tiny BBC Introducing stage. They played an interesting take on shoegaze infused with a little electronica; My Bloody Valentine meets Grandaddy, if you will. In its heyday, the Thames Valley area produced a fine vein of shoegaze acts (Slowdive, Ride, Chapterhouse), and Tripwires may inspire a new wave.
New Yorkers Parquet Courts (3.5/5) also pay homage to musical heritage, erring more towards the post-punk of Wire, XTC and Gang Of Four; or for more modern musical connoisseurs, sounding like a slightly scuzzier Japandroids. Their urgent and brash garage rock has a considerable section of the crowd in the Festival Republic tent pogoing from the start, and justifies some of the hype this band have been recieving. However snotty Parquet Courts are, FIDLAR (3.5/5) ensure they're the most abrasive act some will see all weekend. Named for a skating acronym (Fuck It Dog, Life's A Risk), the LA quartet leave an indelible mark on the purveyor from the off with their anthem 'Cheap Beer', which has a chorus line so simple but infectious you'll hate yourself for having it buzz around your head all day. Boasting a fine punk pedigree (the lead singer/guitarist siblings are both sons of a member of punk-metal legends T.S.O.L.), they land somewhere between Ramones, Trash Talk, Gnarwolves and Black Flag in sound and attitude, and though an odd choice for a mid-afternoon slot given their lyrical content, they seem right at home in the gigantic NME/Radio 1 tent despite having only released their debut this year. In amongst their caustic riffage, a surprisingly decent cover of Nick Cave's 'Red Right Hand' definitely turns heads.
View on Flickr. Photos by Sarah Louise Bennett.
The recently reformed Quicksand (4.5/5), playing dates for the first time since disbanding in 1999, play an astonishing set on the Lock-Up stage to mark their return to UK shores. The melodic hardcore legends, led by demi-god Walter Schriefels (Rival Schools, Gorilla Biscuits) are mesmerising throughout – slick, professional and palpably joyful for the quartet, the set feels like they never went away. The band includes Sergio Vega, now Deftones' bassist (there was a re-jigging of times that saw Quicksand swap with The Computers – presumably so Sergio could have a cup of tea and a sit down between appearances) and drummer Alan Cage, a dead ringer for Breaking Bad's Hank Schrader, who rather amusingly mouths his drum parts whilst playing. Recent evidence has suggested the band may be recording their first material since 1995, so more live dates may be in store – if so, make sure you grab the chance to see this incredible band. I only caught a small portion of Frightened Rabbit (3/5)'s set – from what I saw, the comparisons of "Scotland's Arcade Fire" some make of them are fitting, but this unfortunately doesn't recreate the sort of euphoric experience the Canadians created when playing this stage back in 2005.
View on Flickr. Photos by Sarah Louise Bennett.
Next up were Deftones (3.5/5), the Californian progressive metallers returning to the UK once again on their current 'Koi No Yokan' jaunt. The quintet were hampered by poor sound quality, but the main hindrance of their set was the more atmospheric new material removing their momentum and stymieing any head of steam more bombastic tunes like 'Elite' may have built up. There was a moving moment towards the end when 'Change (In The House Of Flies)' was dedicated to late bassist Chi Cheng, but a more consistent set rather than a fluctating one of peaks and lulls may have been more fitting of their Main Stage billing. The latter end of tonight's Main Stage bill was a wet dream for a rocker who formed their taste in the late 90s/early 00s, and System Of A Down (3.5/5), despite receiving negative feedback for many of their post reunion performances, were still keenly anticipated. They bettered personal expectations, but not by much – reports that they were "half-arsed" and "phoning it in" weren't completely false, specifically in the case of the bored looking Serj Tankian, but an intriguing setlist saved their bacon. Commencing their set with 'Aerials' rather than a more traditional choice like 'Prison Song' was a real curveball, and the inclusion of 'Spiders' was an absolute treat. Whether this reunion will be more than a few money-grabbing performances or whether we'll see new material from the LA quintet remains to be seen, but for now this nostalgia trip is a pleasant one (if one bassist Shavo Odajian is taking a little too seriously – has he changed his clothes since 2003?) and the closing one-two combo of 'Toxicity' and 'Sugar' are mightily impressive.
SATURDAY
Over on the Dance Stage. Ghostpoet (4/5) plays an interesting set, drawing mostly from his Mercury nominated album 'Peanut Butter Blues and Melancholy Jam'. His blend of hip-hop, trip-hop and dubstep is an enticing one, brought to life by a talented backing band. Twin Atlantic (3/5), making their first appearance on the Main Stage, prove they are deserving of that status when the huge, soaring chorus of 'Free' towers over the gathered masses, but the rest of the set isn't quite as rousing. It's impressive that they've made a career, to date, out of sounding almost exactly like Biffy Clyro, but comparing their two sets over the weekend, TA aren't emerging from their compatriots' shadows any time soon.
The Alternative Stage was a strange venue for DOOM (3.5/5)'s set – mostly playing host to comedy acts throughout the weekend, it made odd company for the metal-masked rhymer. Either people simply didn't know about this set or DOOM's popularity has taken a nosedive, but only a small faithful turned out for his twisted verses and astonishing wordplay; however, I have subsequently found out since the festival that OFWGKTA rapper/misogynistic bell-end Tyler, The Creator was Instagramming the set from the photo pit, which makes me feel a little dirty. Sometimes, there's a perfect union of band and place, and after a changeable day of showers, Foals' (4.5/5) set on the main stage finally saw brilliant sunshine emerge. Having attended the festival as teenagers, you can see what the slot means to them, and they repay their astonishing turnout with a wonderful set, calling on tracks from all across their discography; from the reverberating and airy 'Spanish Sahara', to the gargantuan riffage of 'Inhaler' and ending on a fantastic rendition of 'Two Steps Twice'. Foals have already headlined festivals this summer, and have staked a real claim for a higher slot at one of the biggest of all.
Tame Impala (3/5) are somewhat of a surprise hit amongst the type of crowd associated with this festival – their Yeasayer-esque vibes have been lapped up by the ATP crowd, but they seem to have made a successful transition to more mainstream popularity. Their Windows Media Player-esque visuals are a little more exciting than the performance, which means I'm soon heading to the Lock-Up tent for a rare appearance from Mike Patton-led art rock weirdos Tomahawk (4/5). A supergroup of sorts, comprising of former and current members of Helmet, The Jesus Lizard, Melvins, Battles and more, this sporadic chance to witness Tomahawk has been seized upon by few, but those in attendance are treated to a display of dazzling technical ability and a devilish sense of humour – but then, what else do you expect from Patton?
View on Flickr. Photos by Sarah Louise Bennett.
Talking of expectations, I wasn't quite sure what to expect from Eminem (2/5) – but it wasn't this. Sure, I didn't expect it to be the same as seeing him in his heyday – a multi-millionaire family man in his mid-40s rapping about being young, broke and angry doesn't quite ring true. However, miming over a backing track? That I was not expecting, and is scant compensation for not only those with weekend tickets, but the legions of day ticketers, desperate to see one of Em's rare UK performances, might've expected better than showing the "Real" Slim Shady mouthing his classics over a backing track. His hype man and backing band gamely aid in helping this set limp towards its conclusion, and the appearance of Dido for 'Stan' is pretty fun, but Mr Mathers, cap pulled down throughout, looks like there's half a million places he'd rather be than entertain the Reading crowd, and it shows. Not quite as disappointing as Red Hot Chili Peppers' shitfest in 2007 in the "Worst Reading Headliner" stakes, but it's certainly not one for the annals.
SUNDAY
Festivities on the final day of the festival were commenced by AlunaGeorge (3.5/5), a surreal experience for me as the George part of the outfit used to be in of BSM math rock band (and fellow Kingstonians) Colour, and members of post-Colour project Tangled Hair form AlunaGeorge's backing band. Aluna Francis possesses a wonderful set of pipes, putting one in the mind of a latter-day Kelli Ali, and it won't be a surprise to see a bump up to next year's main stage. Over on the Alternative Stage, YouTube sensation MC Mark Grist alongside companion Mixy perform as Dead Poets (4/5). For those unfamiliar, Mark Grist is a secondary school English teacher who dabbles in battle rapping, and as you can see from the aforementioned link, is rather excellent at it. Despite being named after a crap Robin Williams movie, this society are far more entertaining, aiming jabs at their drab hometown of Peterborough and the sordid types that inhabit it.
And So I Watch You From Afar (4.5/5) are next on the "Rock Stage", as the presenter of Radio 1's Rock Show, Daniel P Carter, has taken over the figurative reins from Mike Davies (presenter of The Lock-Up) in having his hand in today's lineup. The former A bassist has made a fine choice with the Norn Iron post-/math-rockers, who play an awesome set that is tighter than a gnat's sphincter, and turns the amps right up to 11. The onslaught of finale 'Guitars Set To Kill' is an astonishing thing to behold, chief among their dazzling displays of technicality and scintillating musicianship. Returning to Reading for the first time since 2009, Fall Out Boy (4.5/5) reach the end of their current tour, following their reunion and release of 'Save Rock and Roll' earlier this year. Where previous performances on this same stage have been flat and disappointing, this was an emphatic return; the band have become a finely honed machine in the live arena, churning out hit after hit in this brilliant set. Alongside the classics, the band had a couple of surprising inclusions, such as 'I Slept With Someone In Fall Out Boy And All I Got Was This Lousy Song Written About Me' and newer number 'Just One Yesterday', featuring the vocal talents of Foxes, who appeared with the band. An emotive performance of 'Saturday' closes the set, with bassist Pete Wentz leaping into the welcoming arms of the crowd, and on today's evidence, if they can keep their current momentum, it won't be long until the Chicagoans are troubling even higher echelons of the lineup.
Even considering the unfortunate brouhaha surrounding the performance, Nine Inch Nails (4.5/5) still sound utterly brilliant. Trent Reznor tweeted that Festival Republic and Biffy Clyro ("whoever the fuck they are") had "fucked" NIN on the production – not that you would know it from the audiovisual spectacular we are treated to. Opening the set with impressive cuts from upcoming album 'Hesitation Marks', the band course through an incredible set; dark, moody and brooding throughout, the disappointingly low attendance at the Main Stage are a lucky few to witness this set. While not quite as jaw-dropping as their 2007 set, never too far away from a conversation regarding the best festival sets ever, and despite the set's rather abrupt ending and lack of their most well-known songs, this was still an intriguing, enigmatic and highly enjoyable performance. Closing out the Rock Stage are Welshmen Funeral For A Friend (3.5/5), and though they emerged at a similar time to tonight's Main Stage headliners, their careers have taken rather different paths. This has been a turbulent few years for FFAF – of the 5 members that recorded the seminal 'Casually Dressed And Deep In Conversation', only two remain, but with a now settled lineup and impressive sound, the quintet can hopefully move on from the "nostalgia band" status albatross that hangs around their neck. Tonight's set wasn't a classic, mainly due to the shredded vocal chords of Matthew Davies-Kreye, but the devoted adoration of the crowd, even after all this time, makes the difference. Songs from this year's 'Conduit' offering, the band's sixth, cause chaos in the pit, and the finishing gambit of 'Juneau', 'History' and 'Escape Artists Never Die' packs a hefty punch.
View on Flickr. Photos by Sarah Louise Bennett.
It's been a phenomenal few years for Biffy Clyro (4.5/5) – going from "Britain's biggest cult band" to being of such a status that they can close the Reading Festival, and this set just feels like the start of their road to world domination. Their elaborate stage set up looked fantastic, and, whatever you might think of their latter-day output, their performance is majestic. Only the most churlish would deny them deserving of this slot, having previously played around 300 gigs per year in their early days, and the Ayr trio take to the opportunity to headline a festival they've played 7 times previously like water off a duck's back. All 6 of their albums get a look-in to sate the old-school fans, with a glorious '57' (played at their very first Reading performance), a massive-sounding 'Glitter and Trauma' and a brief cameo of 'Questions And Answers' featuring in the set. The band put on quite a display, with 'Who's Got A Match?', 'That Golden Rule' and finale 'Mountains' all involving spectacular pyrotechnics, not to mention Simon Neil setting his guitar aflame during 'The Captain'. A triumphant appearance from one of the very best live bands in the world, and a cracking curtain closer on an excellent weekend. My personal tastes lie closer to the smaller, more boutique festivals these days, but Reading is still more than capable of putting on quite the show.
Overall Rating: 4/5
Our full coverage of Reading and Leeds Festival 2013 can be found here.
Words by Ollie Connors (@olliexcore)