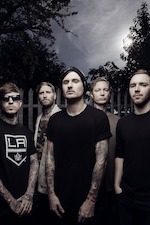 Australian metalcore outfit I Killed The Prom Queen have revealed details of their new album. 'Beloved' will be released on 17th February through Epitaph Records.
01. Beginning Of The End
02. To The Wolves
03. Bright Enough
04. Meilor
05. Thirty One & Sevens
06. Calvert Street
07. Kærjrlighet
08. The Beaten Path
09. Nightmares
10. No One Will Save Us
11. Brevity
A new song called 'To The Wolves' can be streamed by clicking read more.