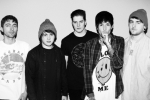 Bring Me The Horizon's Oli Sykes recently posted on Twitter his thoughts on Ian Watkins, the former Lostprophets vocalist who was sentenced to 35 years in jail on Wednesday (18th December).
Sykes posted the following message:
"So Watkins was sentenced & justice was served, wether you think it was too short a stretch or not. My heart goes out to all the victims effected, but I would like you all to consider the impact and destruction watkins has inflicted on his band, and see how them themselves are in some ways the biggest victims of this nightmare. He destroyed the legacy of Lostprophets (which were my favourite band ever back in the day) -when your band ends you want to be able to look back at all the good times, listen to the songs you made, reminisce, but that is no longer an option. He has made it extremely difficult for them to continue their love of music and art without people treating them differently because of one mans actions. Whatever they choose to do in the future we should support them 110% and not let one nonces life ruin 5 good peoples lives.