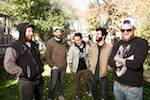 Canadian band Protest The Hero have premiered their video for 'Underbite'. Carrying on their tradition of being totally non-traditional, the clip features the band members as finger puppets.
The band made the following comment about the video:
"We admit, we have had some pretty outlandish ideas for music videos in the past. We may not have hit it out the park with all of those ideas – but something tells me we are close with this one.
When we brought up the idea of a full-blown puppet video to our friend / directer Marc, he laughed in our faces. He continued laughing for weeks until he remembered that a friend of his knew how to make wonderful little paper puppets. That's when he got serious.
He took on the idea with every bit of his creative being, and this is the result. You may not like the song, you may not agree with the lyrics, but if you don't like the video, we don't like you."
The video can be viewed after the jump, and Protest There Hero will be touring in the new year alongside Tesseract, The Safety Fire and Intervals.
February
01 Brighton @ Concorde 2
02 Birmingham @ O2 Academy2
04 Sheffield @ Corporation
05 Glasgow @ Classic Grand
06 Manchester @ Academy2
'Volition' is out now on Spinefarm Records.