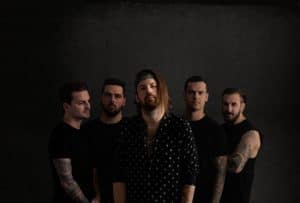 The never-ending barrage of continues this week as September ends with loads of significant releases alongside some that shouldn't be ignored.
Amongst the more notable albums are Beartooth, who return with their third album – 'Disease'. Whereas Welsh alt-rockers The Joy Formidable step into the unknown on 'AAARTH'. Synth-pop trio The Black Queen deliver their second full-length, 'Infinite Games', and Doe produce a cathartic sophomore record in the form of 'Grow Into It'.
Fans of cult favourites, Palaye Royale, will be obsessively tweeting about their new album. While Bayside and Anti-Flag offer acoustic records, and Florida's Gouge Away stir up a deeply personal record with 'Burnt Sugar'.
There are also noteworthy releases from Against The Current, The Living End, Terror, Tilian Pearson and Hail To The Sun.
For those wanting considerably "lesser known" releases, we recommend checking out new music from The Uncharted, The Run Away, Slow Crush and The Pariah.

Follow us on Spotify for more playlists.
Beartooth – Disease (★★★★ Review)
Anti-Flag – American Reckoning (★★ Review)
Doe – Grow Into It (★★★★ Review)
The Joy Formidable – AAARTH (★★★ Review)
Terror – Total Retaliation
Against The Current – Past Lives
Bayside – Acoustic Volume 2
Tilian Pearson – The Skeptic
The Black Queen – Infinite Games
Palaye Royale – Boom Boom Room (Side B) (★★★ Review)
The Living End – Wunderbar
Gouge Away – Burnt Sugar (★★★★.5 Review)
Hail The Sun – Mental Knife (★★★★ Review)
The Pariah – No Truth
The Uncharted – Perspectives EP ("Recommends" interview)
The Run Up – Good Friends, Bad Luck EP (★★★.5 Review)
All Them Witches – ATW ("Under the Radar" review)
Slow Crush – Aurora (Stream)
Pigs Pigs Pigs Pigs Pigs Pigs Pigs – King Of Cowards
The Arusha Accord – Juracan EP (Under the Radar" review)
Walking Dead On Broadway – Dead Era (Under the Radar" review)
Well Wisher – This Is Fine
Canavar – Canavar (Under the Radar" review)
Four Seconds Ago – The Vacancy
30 Miles – Short Tales For Braves
Various – Fast Around The World Volume 2
Bloodtruth – Martyrium