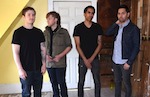 The next round of bands for Groezrock 2014 have been announced with Saves The Day, Red City Radio, Terror, Ignite, The Toasters, The Casualties, Crazy Arm, Apologies I Have None, The Charm the Fury and Priceduifkes joining the lineup.
Groezrock Festival takes place on May 2nd & 3rd in Meerhout, Belgium.
The full lineup can be viewed by clicking read more.