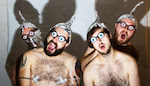 Gloucester hardcore punk quartet Still Bust have premiered their new video for 'If You Don't Like Video Games You Probably Have Other Interests'.
The track comes from the bands latest release 'A Few Things We Might Agree On (A Few We Might Not)' (Lockjaw Records), and the video can be viewed on FRONT or by clicking read more.
Still Bust will be touring the UK in March alongside Germany's Starry.
February
28 2 Pigs. Cheltenham (w/ Let's Talk Daggers – Still Bust only)
March
2 Sanctuary. Basingstoke
3 Avondale House. Southampton
4 White Rabbit. Plymouth
5 Mozarts. Swansea
7 Lounge. Blackburn
8 Venue TBA. Worcester