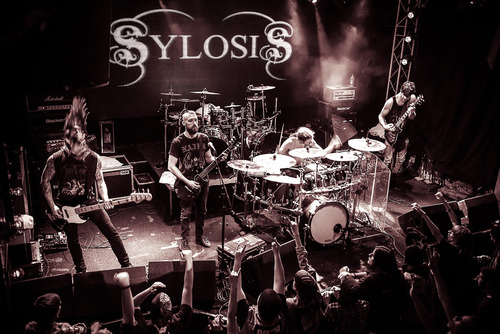 Reading metallers Sylosis have announced the departure of drummer Rob Callard. His replacement will be Ali Richardson, who will continue his duties with his own band – Bleed From Within.
Comments from both Callard and Richardson can be viewed by clicking read more.
"Having spent the last 9 years recording music and touring around the world with Sylosis, I have had some of the most memorable experiences of my life. Sylosis has some of the most dedicated and awesome fans and I am honoured to have played a part in music that is so well received.
Unfortunately I can no longer dedicate 100% of my time to the touring schedule and therefore to be fair to the band and fans I will step down and allow another drummer to take my place.
I want to say a massive thanks to Alex Bailey, Carl Parnell, Josh Middleton, Adam Foster, Julia Matthews, John Matthews, Stuart Callard, Andrew Matthews, Neil Callard, Abby Vickers, Mike Creech, Malcolm McKenzie, Kelly Renda, Jaap Wagemaker, anyone else involved with the band and every single fan that loves our music or came to one of our shows. It's been an absolute pleasure!" – Rob Callard
"Very excited to announce that I am now a part of the Sylosis family. I filled in for Rob when Sylosis toured together with my band, Bleed From Within, and Devildriver. I had a total blast on the tour and had great fun playing the songs in a live environment, so it was a no brainer when they asked me to join full time due to Rob's departure. Thanks to my brothers in Bleed From Within for letting me take on another band as well as my own, thanks to Josh, Bailey and Carl for this opportunity, and I want to wish Rob all the best for the future. Cheers!" – Ali Richardson