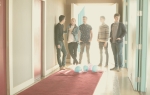 Manchester rock quintet The Cape Race have launched their own record label, Ten Letters. 
The label is a collaboration between the band and their fans and will see their forthcoming début album be promoted by those directly involved with the label.
The first single, 'Digging For Gold' from The Cape Race's new album will be released on 19th February.
Further information on Ten Letters including on how to join the label can be found here.