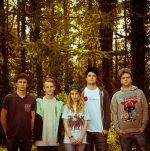 A new song from The Winter Passing has been released.
'Nowhere Still' appears on the 'Unsigned|Unrest' compilation and can be streamed by clicking read more.
However the track will not appear on the bands forthcoming EP, 'Scrapbook', which is set to be  released on March 8th through Struggletown Records, View From The Attic Records and Something New Records.