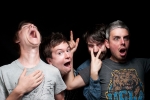 Guildford quartet Trails have posted a lyric video for their track 'Desert Sun'.
The song is previously unreleased and was recorded during the sessions that made up the bands recent 'Signs' EP (Lockjaw Records).
The track is a scathing look at Western, US led, Middle Eastern foreign policy.
In addition the song is available to download for free here.