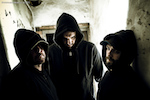 Undergroove has announced its first signing in two years by inking a deal with South Yorkshire's rock 'n' rollers Servers.
Their new single, 'Universes & Supernovas (The Ride)' will be released next week and its video can be viewed by clicking read more.
Their debut album 'Leave With Us' will be released on February 24th.