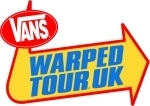 The latest additions to the Vans Warped Tour 2013 UK event have been announced with the likes of While She Sleeps, Hatebreed, Sonic Boom Six, Canterbury, and Decade joining the lineup.
In addition The Charm, The Fury, The Dirty Heads, Handguns, We Are Fiction, Black Dogs, Carnival Kids, Alvarez Kings, Max Raptor, The First and Jim Lockey & The Solemn Sun will also be playing the event which takes place on November 16th and 17th at London's Alexandra Palace.
The full lineup can be viewed by clicking read more.