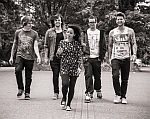 Rising punk-poppers White Clouds & Gunfire have revealed details of their debut album.
The record is titled 'For All The Non Believers' and is set to be released on 2nd September.
1. Bruised Not Broken
2. Same Old Town
3. You Can't Bring Me Down
4. Poison
5. Pebbles
6. Reflection
7. Dreams
8. Since You Were Gone.