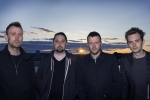 Following the release of their latest album 'Wild Light' and a sold out performance at the Scala In London, 65daysofstatic have announced a special two set show at the 1500 capacity venue Koko in Camden on 27th March.
The first set will see the band marking the 10th anniversary of their debut album, 'The Fall Of Math' by playing the full record for the first time. The 2nd set will be a normal performance.
Tickets for the show can be purchased here.