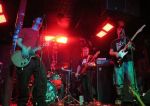 Sittingbourne punk outfit 7 Day Conspiracy recently released their new music video for 'Berkshire Hunt'.
The song is taken from their upcoming split LP with Norwich ska punks Goober Patrol, which is due for release on the 1st April on Bomber Music Ltd.Pre-orders can be purchased here on the label's store.
Click read more to view the video.