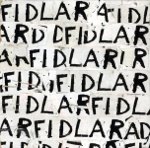 To put things into context, Los Angeles quartet FIDLAR ('Fuck It Dog Life's A Risk') is a bunch of dudes who love to skateboard and make music. The self-titled record 'FIDLAR' was recorded and produced by the band: another DIY-outfit among many in this day and age; but that's not to say that their latest offering is by any means amateur. The production of the record is somewhat admirable for the way in which it was recorded.
At a lengthy fourteen tracks long 'FIDLAR' kicks off with 'Cheap Beer', which opens with an infectious hook and what sounds like a sample of The Trashmen's 'Surfin' Bird', more commonly (and wrongly) known as 'Bird Is The Word'. With lyrics filled with drug references and, of course as the title denotes 'Cheap Beer', FIDLAR have set few boundaries and their laid back view on life really begins to shine through.
This continues with tracks such as 'Stoked And Broke', 'No Waves' and 'Whore' where raw, trashy vocals declare the likes of "I just wanna get high, smoke weed until I die" and "I stay at home drinking, you're such a whore", continuing to reiterate this carefree attitude that FIDLAR passionately enforce within their music. These trashy vocals are complimented by mid-paced percussion and, on the most part, simply crafted guitar structures; but this suits the whole stoner, alternative rock image of the band.
Getting to the halfway stage of the record and the repetitiveness of 'FIDLAR' is perhaps taking its toll; until '5 To 9' makes an appearance. Very short and sweet, lively and catchy, the track gives that well needed burst of energy among the dreary, stoner rock that fills the record. That being said, 'Wait For The Man' and previous 'Cheap Beer' do pick up the pace, at least to some extent with dynamic percussion and quirkier guitar.
FIDLAR may cause some controversies with this one. If you're against drugs then I strongly recommend that you don't listen to 'FIDLAR', because that is everything that this record is about; you'd only get offended. For those of you that love chilled alt rock then give 'FIDLAR' a chance: FIDLAR are good at what they do but you just have to be able to accept their laid back nature first.
3.5/5
'FIDLAR' by FIDLAR is out on 4th February on Wichita Records.
FIDLAR links: Facebook|Twitter|Bandcamp
Words by Hannah Gillicker (@HannahGillicker)