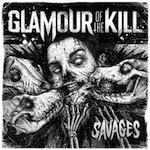 Having taken their time before releasing a new record and relentlessly touring since 2011's 'The Summoning', Glamour Of The Kill make a welcomed return with their eagerly anticipated sophomore full-length 'Savages', but has it been worth the wait?
Opening with singles 'Break' and 'Second Chance', there's already evidence of Glamour Of The Kill's maturity and their glam rock/metal blend has shifted in technical ability, showcasing perfectly crafted guitar solos and vocals packed with confidence.
Oozing with interactivity, boasting gang vocals and energy-laden rhythms, 'A Freak Like Me' cements the quartet's carefree, party attitude; if you're looking for a good time then this is definitely a suitable soundtrack. The rapidity of 'Rescue Me' reiterates the metal influences that Glamour Of The Kill bear, complimented by Davey Richmond's fierce rock vocals to create a terrific blend of genres.
The haunting ambience of 'A Beautiful Way To Die' holds resemblance to old school Avenged Sevenfold in its drum work and riffs which works perfectly for Glamour Of The Kill, complimented with chilling vocal effects in appropriate sections. 'Tears Of The Sun' continues the calmer shift of the record, still as powerful (if not more so in parts) as the rest of 'Savages'. Closing with 'Welcome To Hell' and transitioning between faster and slower sections, Glamour Of The Kill display the progression that they have made over the past two years for one final time.
It goes without saying that Glamour Of The Kill have made a huge step up in their career, and 'Savages' was without doubt worth the wait. Packed with strong tracks that execute their blend of genres fantastically, this record is certainly worth a listen!
4/5
'Savages' by Glamour Of The Kill is out on now on SPV.
Glamour Of The Kill links: Facebook|Twitter
Words by Hannah Gillicker (@HannahGillicker)