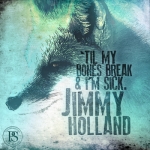 As far as acoustic music goes, in my eyes, there can never be enough. Acoustic music is more honest, genuine and speaking from experience, and a hell of a lot harder to write; you have to fill out the space more, and you hear every little nuance, so it's a lot harder to pull off.
Now, with acoustic music, there's a number of ways you can take it – the Frank Turner way of baring your soul, telling some home truths, and adding your own edge of punk to it, the Ed Sheeran way of making pop friendly tunes, telling stories of broken hearts, or the more folk band based way of Mumford & Sons, which is very well produced, full of metaphors and banjos. There are obviously other ways you can do it but Jimmy Holland seems to have fused Frank Turner's punk ethic idealistic way of writing, with Ed Sheeran's sweeter sounding voice and pop sounding guitar. I'm not saying anything bad about this; Ed Sheeran may be disliked by many, but anybody who gets that popular is going to be disliked, and I for one am a sucker for his stuff. (Jimmy if you're reading this, sorry if you hate being compared to Ed Sheeran!)
<a href="http://pinkyswearrecords.bandcamp.com/album/til-my-bones-break-and-im-sick" data-mce-href="http://pinkyswearrecords.bandcamp.com/album/til-my-bones-break-and-im-sick">'Til My Bones Break And I'm Sick by Jimmy Holland</a>
The EP starts off with an aptly titled song 'Party at The End of the World', a song about drinking with your friends "at the end of the world". With the 21st of December looming upon us, we have the idiots misinterpreting history with no proof, and this song (which may not even be about that) adds a lighter touch to it, and makes you smile at the thought of it. With the storytelling style lyrics, similar to Frank Turner, it's hard not to like this. If I had heard the "da da da" style singing at the end of this in anything else, I probably wouldn't like it, and would probably criticise it heavily, but in this song it's used in the right way.
'Kids on the Run' builds up to the sort of folk music you can stamp your feet along to, and I feel it almost needs it in this, although I think that's just the acoustic songwriter in me coming out. Jimmy has captured the right style of lyrics needed to draw the listener in to listen to the story as well as the song. I think everybody can relate to the line "we're still kids on the run", and I think it adds to the innocence Jimmy has, and is necessary for his songs to hit home to the listener.
The next track 'Old Folk Band' personally appeals to me, once again capturing the innocence and genuine side of Jimmy, showing he obviously loves what he does, and is able to write about it. It also includes the EP title in the lyrics, which I always love in songs – who doesn't like hearing the name of the film you're watching said in it? It's the same for a song title, for me anyway.
As '22' comes in, it doesn't seem to stand out to me, and I didn't really know what to think, but as it continues, bringing in the drums and other guitars, it has the folk punk edge to it I've been wanting to hear more of. With lyrics like "we could do with a little less fighting, and little more romance", almost cliché style lyrics, but used just in the right way in this song, it's hard not to like Jimmy and his unique take on folk music. Definitely my favourite track of the EP.
'Got Heart?' is the song drawing the EP to a close, another motivational style song, with a very positive edge despite the negative lyrics. The background sounds really add a nice touch to this, giving it such a powerful sound, and as the song builds up with backing vocals, it's obvious why this is the closing track.
Jimmy Holland is a refreshing sound in folk music. I love acoustic music, and I love this EP. As much as I want more acoustic music, it seems the scene has become quite abundant in City and Colour, Frank Turner, and Ed Sheeran wannabes, so it's a pleasant change to hear something that reaches out to me. I look forward to hearing more. 
4/5
'Til My Bones Break & I'm Sick' EP  by Jimmy Holland is available now as a free download from Pinky Swear Records.
Jimmy Holland links: Facebook|Twitter|Bandcamp
Words by Callum McPhee (@Callum0510)