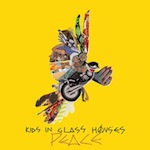 It's fair to say that Kids In Glass Houses have always delivered albums that ooze with catchy tracks and 'Peace' is certainly no exception. Keeping in line with the current trends of the British rock scene but with that Kids In Glass Houses touch still very much evident, 'Peace' is guaranteed to get you on your feet; prepare yourself for some damn good party anthems.
The quintet couldn't have picked a catchier opening track than 'Peace,' followed by the electro pop rock anthem 'Drive,' both perfect single choices that showcase the sheer excellence of the entire record. Kids In Glass Houses discotheque shift really works in their favour, nailing the infectious pop choruses with the likes of 'V-I-People' delivering upbeat and quirky rhythms and interactive vocals. Even the slower 'Up All Night' is packed with an energy that showcases punchy beats and sing-a-long choruses, reiterating that Kids In Glass Houses have a natural ability to produce catchy, feel good party tracks.
From pop rock anthem and title track 'Peace' to calm closer 'Nightcrawler,' Kids In Glass Houses take feel good rhythms, fist pumping choruses and electro beats, mash them up and produce a bunch of tracks that create a recipe of success.
Four full-length albums into their career, Kids In Glass Houses are still more than capable of executing albums that are guaranteed to capture audiences far and wide. Probably the most fun album to grace 2013; one listen and you'll be hooked.
4/5
'Peace' by Kids In Glass Houses is out on the 30th of September on Transmission Recordings.
Kids In Glass Houses links: Website|Facebook|Twitter
Words by Hannah Gillicker (@HannahGillicker)