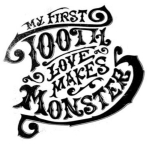 In recent times, indie-folk has been the subject of contradictory internal trends. On one hand, one could hardly think of a more fertile time for bands of the stripped-down, string-packed, quaint persuasion, yet on the other, newcomers have to deal with the popular backlash against huge folk bands such as Mumford & Sons. Some will berate me for bringing them up, yet their particular sound can stand in for how a well-honed, albeit repetitive, approach can churn in the cash and airwave presence. Likewise, My First Tooth can serve to show how exciting, engaging, original and considerably less depressing great indie-folk CAN be.
If one of their earlier singles, 'Orchards', one of the most endearing and infectiously happy pop songs this writer had come across last year, was an amuse-gueule, then debut album 'Love Makes Monsters' is an eye-popping plat de resistance. My First Tooth seemingly appear to consistently strike a perfect balance of discreet guitars, catchy violins and sweet harmonies, generating a sense of warmth and coziness matched only by the likes of Frightened Rabbit, but with more added smiles and minus the self-deprecation.
A characteristic strength of theirs is the ability to package their fresh and charming ideas into a neat pop-standard three and a half minutes. Within those limits (a handful of occasions being the exception), My First Tooth revel in colourful arrangements and a tasteful reservedness in instrumentation. Never is that particular concoction better accomplished than in the form of recent single 'Past Broadcasts', delivered here in extended form. Warm guitars and bass are the founding stones of the track, but the hook lies in the wonderfully jovial violins and a quite superb finale, complete with welcome horns. Other deserving examples include the quite delightful emotional high-point that is 'Heartbeat Retreat', the country-tinged mini-epic 'Into The Wild Part. 1' and the passive-aggressive love song 'Hawk In Harness'.
Yet there is quality to be found in their lengthier endeavours as well, in which more often than not they sway from their favoured style with incursions into lighter atmospheric territory and fuller instrumentations. The latter on 'Into The Wild Part. 2', which deceivingly starts off stripped-down and slowly occasionally accompanied by female backing vocals, but transitions into an energetic and soaring second half. 'The Palace' sees a rare venture into very slow tempo with airy backing vocals and nonchalant keys, until the beautifully sweet finale in which a lonely repeated guitar lick is gradually joined by a crescendo of soft harmonies, pounding drums and crashing cymbals towards its inevitable climax.
My First Tooth have signed a strong debut built around confident songwriting and a distinctive brand of cheery folk. They display very many strengths and, importantly, very few weaknesses (we'll let the over-indulgence of closer 'Some Gurls' twelve minute run time slide, this once) and this writer certainly hopes that these ladies and gentlemen will find themselves to be the soundtrack for many a person during the flowery springtime and sweltering summer to come.
4/5
'Love Makes Monsters' by My First Tooth is released on 4th March on Alcopop Records.
My First Tooth links: Facebook|Twitter
Words by James Berclaz-Lewis (@swissbearclaw)