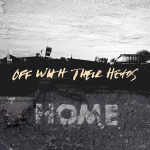 Off With Their Heads are stalwarts of the punk scene; three full length studio albums as well as countless 7" and split releases and a relentless touring schedule lead us here, to 'Home'; this release sees the band produce their most musically proficient album to date whilst still retaining their roots in the punk scene that birthed them.
From the screeching feedback on opening track 'Start Walking', it is clear the band are attempting to capture their magical live aesthetic on record; the most impressive thing about this being that they capture the magic and chaos of an Off With Their Heads live show without compromising on album sound quality. This may well be the tightest sounding and best produced album the band have ever made, evident in 'Shirts' which punches out with a burly riff, tight and rumbling bass line, and gutsy vocals to create, quite frankly, a force of nature. Incidentally, the album was produced by legendary Descendents drummer Bill Stevenson.
For those who are now worrying that 'Home' is over-produced and artificial, you needn't. Tracks like 'Altar Boy' have therefinement of 'On The Impossible Past' era Menzingers, if their balls had dropped. Off With Their Heads are still very much the straight-up, fun loving punk band we all know and love, just tightened up slightly. This is no more the case than on the mind blowing 'Nightlife'. Emotional and powerful, it is the most affecting and jaw-dropping track on 'Home' closely followed by the ballad (!) 'Don't Make Me Go', a lament to being in a travelling band and the loss of identity that creates, with the distinctive gruff vocals of Ryan Young crying"Don't make me go home/I'm wanted there less than I'm wanted here".
Lyrically, 'Home' is unsurprisingly about finding an identity, both geographically and within oneself; ironically however, this record really sees the band find their footing as a unit. By the time closing track 'Take Me Out' comes around, you are very much aware you have listened to a very impressive record indeed.
'Home' is classic Off With Their Heads. The band is so punk that they probably bleed vinyl and beer. It is a record of tenderness, power and frustration. It is emotional and raucous in equal measures. It has all the markers of being one of the best albums of this year and it certainly holds its' weight with the rest of the band's impressive back catalogue. It can also boast at being the most accomplished music the band have ever made; 'Home' is a fantastic album from one of the hardest-working punk bands out there. Search it out and prepared to be blown away.
5/5
'Home' by Off With Their Heads is out on the 12th of March on Epitaph Records.
Off With Their Heads links: Facebook|Twitter
Words by Tom White (@whiteywitters)