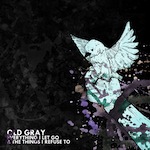 <A lot can change in a year. This time, twelve months ago, the New Hampshire trio of Old Gray was gearing up for the release of their latest EP, 'Everything I Let Go And The Things I Refuse To'. Now, time has passed, and the New Hampshire trio of Old Gray is… well, they're gearing up for the release of their latest EP, 'Everything I Let Go And The Things I Refuse To'. So perhaps not everything changes in a year. But at the same time, if something is a success then what's wrong with going back to the well and drawing on that same success? Nothing at all. We see re-releases of albums and EPs quite often these days, and that is exactly what the US three-piece has done with an initially very strongly received effort, just over ten months after its initial launch.
As opening track '359 Pine' creeps into life, it's easy to understand the captivation that the record has caused in its short life so far. The words of drummer Charlie Singer are heartfelt and transformative, from word one you feel uprooted and placed on a roof or a mountain or somewhere fittingly high, arms pointing outward and feeling totally alive. There's an almost hypnotic trait to the way Singer's words seep in, and in a similar way to how some may fall asleep with self-help podcasts playing in their ears, the lyrics of the EP opener seem to be on a fast-track to your subconscious. Before the first minute is even over you find yourself re-listening. "Did I hear that sentence right?" "What was that about my former self?" Questions create themselves and the hunt for answers immerses you even deeper in the track. Like a soapbox speaker in a crowded town centre, you find yourself not fully understanding but desperate to hear the spiel through to its conclusion.
With an introductory track, you can ask for nothing more than to grab attention and '359 Pine' does that with nothing more than Old Gray's vocalised collective mind. The track's instrumental side is a laid-back supplement, which leads in to following piece 'Resonance' with the same calming sound. Maybe in New Hampshire they'd dub it "chillax music". Maybe I'm misjudging the New Hampshire vocabulary. But there is far less of a chilled or relaxed nature to Singer's vocals as track two opens up; the previously docile beast now rattles the bars of its cage with more hunger. Still, however, the clean guitar and laid back drums juxtapose the now screamed vocals; were it not for Singer's contribution the track would be of a fervently ambient nature. Cameron Boucher's work on guitar and Raphael Bastek's on bass are slow, and steady, but shine through as an incredibly effective back-up to Singer's screams. 'Resonance' hits a roaring crescendo in its second half, a resounding statement of Old Gray's arrival. As quickly as they fire up, however, the band sound off, and the EP is already half way done. Feel free at this point to go back and re-listen to what the band have offered so far. No-one would blame you and I'd be a hypocrite if I tried.
'Winter '11' is next up, and with Boucher and Bastek swapping instruments it's all change on the band's frontline.  A darker introduction opens the track, before the emotion-wracked screams of Singer rip into the piece once more. Emotion seems to take over in places, with Singer's vocals becoming more strained at various points throughout the two and a half minute rager. 'Six Years' is a little different. Vastly different, in fact, to the three tracks which precede it. An audio clip from American TV series 'Freaks And Geeks' creates an opening to the EP's concluding effort far removed from any others on the record. Emotion is the key word once again, and once again Singer's words are full of it. The lyrics seem to writhe across the track, before bowing out completely in the EP's final minute to make way for the band to let loose instrumentally for one last explosive finale. You talk about making a statement? Well, start talking about this record, because it does that with ease.
In case you were wondering, then, it only takes twelve minutes to make an impact, musically. 'Everything I Let Go' is a many-headed beast that starts as a calm and collected lyricised stream of consciousness, ending in something far more visceral. There's far more depth here than your average punk act, with Old Gray taking form as a band that make you lament how tainted the "emo" term has become in recent years. They're on the fringes of it, and simultaneously on the fringe of a big leap in exposure. It would be well-earned for sure, as the thoughts and music of this band are ones that deserve to be heard.
4.5/5
'Everything I Let Go And The Things I Refuse To' by Old Gray is out now on Dog Knights Productions.
Old Gray Links: Facebook|Twitter|Bandcamp
Words by Antony Lusmore (@Metacosmica)