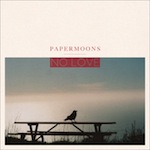 Austin-based Indie-folk duo Papermoons released their second album 'No Love' a whole four years after their debut 'New Tales'. Their second release has seen them go through great personal growth such as leaving school and the biggy… marriage. You can hear in the lyrics that the songs are based on these changes with a more light hearted easy listening feel to the topics. The harmonies created by the pair are beautiful and its hard to remember they are just a duo when you hear the full sound that they produce. On the other hand the way I feel about the album changes depending on what mood I am in. Some days I think its great and others I get a little bored of listening to the similar chord progressions and the same style builds and pauses in the songs. We will see what kind of day I'm having by the end of the review I guess!! 
The band seem to be striving to make music that both console and cheers someone up, the way the music becomes more epic and uplifting towards the end of most of the tracks. But this happens in the first two tracks of the album 'Arms Length' and 'Matchbook' both songs have incredibly similar structure, making them quite boring, especially if you place the songs together. This being said though you can't take it away from Matt Clark (vocals, guitar, pedal bass) and Daniel Hawkins (drums, vocals, hand percussion) that their song writing is pretty damn good. I know I couldn't begin to write a song its just my job to criticise it… seems fair right?
<a href="http://deepelmdigital.com/album/no-love" data-mce-href="http://deepelmdigital.com/album/no-love">No Love by Papermoons</a>
Other than the first two tracks being pretty 'samey' the album in general has a nice flow to it and I guess the more I listen the more I like it. The band are really tight together and definitely work well with a sound that is quite captivating and the subtle transitions created are beautifully done.  (Heck, seems like I've taken a leaf out of Dr Jekyll and Mr Hyde's book today!) But something just keeps niggling that its not the best of what is to come from this band… maybe thats why I loose interest? (ooooh look there's Mr Hyde!) But maybe the idea I have that the band would put on a pretty cool live performance is what I am missing when I just listen to the album? Some bands just work much better live, and with the full sound Papermoons give for a two piece I imagine their stage presence is something spectacular to watch. Overall I would say the album is a 3.5/5 maybe if I get the chance to see them live I will become much more excited by the music?
3.5/5
'No Love' by Papermoons is out now on Deep Elm Records.
Papermoons links: Website|Facebook
Words by Megan Pacey (@megan_rose92)