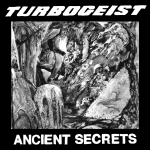 Powerpop/Thrash quartet Turbogeist are in full swing, currently on tour with the mighty Pure Love and set to release their brand new EP 'Ancient Secrets.' The band takes an underground approach, with gritty sounding tracks possessing a raw characteristic; rebelling against the crystal clear recordings you hear from many acts nowadays.
Tracks such as opener 'Mermaids Revenge' and 'Black Hole' combine grungy riffs and vocals that are often complimented by quirkier hooks and gang/backing vocals. There is an admirable amount of character in Turbogeist's music, especially the edgy guitar solo featured in 'Zero Friends' which welcomes extra substance, not to mention the rawness of the tracks as a whole; with experimentation of harsher vocals in sections strongly reiterating this.
Turbogeist's cover of The Wiper's 'Up Front' is fantastic, with a lively rhythm and steady but powerful drum beat instantly opening the track, soon leading into even faster-paced riffs and percussion. Another impressive guitar solo is introduced mid-track with experimentation of vocal structures; combining hushed and edgy vocals in just the right proportions. All of this pieced together makes for an outstanding cover song, giving it the Turbogeist twist and certainly in a good way.
Drawing the EP to a close is a similarly energetic track 'Rats' which appears to have taken influence from 'Up Front,' rounding off 'Ancient Secrets' on a real high note. The track is much quirkier than the preceding ones with overly infectious hooks throughout, along with those raw vocals that have consistently excelled by keeping in theme with the bands underground vibe. The track completely calms down near to the end, edging back to the sounds featured earlier on the EP; it would have been nice to experience the previous energy more often, but overall 'Ancient Secrets' is a great listen and its raw tendencies put Turbogeist in my good books!
4/5
'Ancient Secrets' by Turbogeist is out on the 11th March via Spinefarm Records.
Turbogeist links: Facebook|Twitter|Website|Tumblr
Words by Hannah Gillicker (@HannahGillicker)