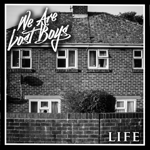 Reading's promising talent We Are Lost Boys return with their second EP 'Life', having debuted with 'Making Memories' last year. With the four-piece having shared stages with big names such as Deaf Havana and We Are The Ocean they have already impressed sold out venues, hoping to impress similarly with this new record.
Opener 'Don't Care' notes heavy influences of Lower Than Atlantis in the opening riff, continued melody – in particular the second half of the first verse where the drum beat kicks in – and throughout the chorus. The one element that distinguishes this alternative rock band from their influence is vocalist Danny Wright's distinguishable sounds in the verses. 'Don't Care' makes for a great opening track on the EP and its energy gives 'Life' a promising start.
'Who Has To Know?' opens with a similar Lower Than Atlantis style melody but follows into a more individual sounding verse with a catchy rhythm section. The chorus introduces rapid drums with easily remembered lyrics increasing the pace of the track, with the return of a mid-pace at the beginning of the next verse. The track still provides energy, ending quite abruptly but overall creating a good alternative rock track.
Slowing down 'Life' is single 'T.W.O.T.W (The Way Of The World)', introducing calmer melodies than in previous tracks. In parts the key of the vocals is slightly too low for Wright but they continue as strong as they have done in the rest of the track. We Are Lost Boys slower offerings make their sound more unique than their faster tracks that have more obvious influences; however I think that their faster songs are much more captivating and would work really well as singles. The slow pace of the record is continued with 'What Now?', which is set to be released as a single at the end of the month offering calm melodies, less prominent drums and soothing backing vocals, making it a better representation of their musical abilities than 'T.W.O.T.W. (The Way Of The World)'.
Ending track and another single off of 'Life' is 'Old Street', which reintroduces the energy from the first half of the EP continuing with infectious rhythms in the run up to the verses. The backing and crossover vocals work well in this track, before the lone vocal of "It's been a long time" abruptly ending 'Life', leaving a strong and memorable impression.
All in all, We Are Lost Boys are releasing a very promising record with lots of potential in the majority of tracks. Although their influences are a little too evident in parts, the four-piece have produced an EP with diverse tracks, both energetic and calm which come together and make 'Life' a captivating release.
3.5/5
'Life' by We Are Lost Boysis out now on A Wolf At Your Door Records.
We Are Lost Boys links: Facebook|Twitter 
Words by Hannah Gillicker (@HannahGillicker)