Influential punk rockers Alkaline Trio will make their return on January 26th, 2024 with a new album. It's called 'Blood, Hair, And Eyeballs' and will be released through Rise Records. The band's tenth album will be the last to feature long-serving drummer Derek Grant.
"My mom worked for years as an emergency room nurse. She and her co-workers referred to exceptionally busy nights as 'blood, hair, and eyeballs'," explained Alkaline Trio vocalist/guitarist/founder Matt Skiba when discussing the album title.
"We approached this new record in completely new ways", Skiba added. "We built the songs together, from the ground up, in the same room which hasn't happened since the band started. Usually, we start with an idea somebody's already written. This time, we had the unique opportunity to build the songs onto drums recorded at Studio 606 onto two-inch tape using one of the most beautiful-sounding and legendary consoles in rock. It has almost everything to do with how our new record sounds."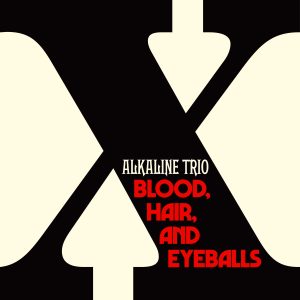 1. Hot For Preacher
2. Meet Me
3. Versions Of You
4. Bad Time
5. Scars
6. Break
7. Shake With Me
8. Blood, Hair, And Eyeballs
9. Hinterlude
10. Broken Down In A Time Machine
11. Teenage Heart
Fans can pre-order 'Blood, Hair, And Eyeballs' here.
Watch the video for 'Blood, Hair, And Eyeballs' by Alkaline Trio
In addition to announcing 'Blood, Hair, And Eyeballs', Alkaline Trio have also shared a gruesome video for its title track.
In what starts off as your typical summer motel party with skateboard legends Steve Caballero and Chris Cole skating around Alkaline Trio in an empty pool, but soon things take a turn for the worse. As the party-goers turn into zombies, Skiba, bassist/vocalist Dan Andriano, and new drummer Atom Willard fight for their lives, but was it all a dream?
On the video, Andriano commented on the input of director Ravi Dhar and how skateboarding introduced him to punk rock. "Sometimes the full circle nature of life is enough to just completely blow my mind…this is one of those times! Skateboarding is my first love, my favourite sport, and a community through which I was first introduced to punk rock," he said. "So when Matt and I read Ravi's idea to combine the two and throw some spooky zombies in there we both loved it right away. The work Ravi and the entire production crew put in was insane and it shows. To kick off our 10th album release with this super fun video featuring Steve Caballero, Chris Cole, Ace, Corey and Shea is so much more than a dream come true, it's true love. This is not a phase."
As for 'Blood, Hair, And Eyeballs', the track is a razor-sharp example of Alkaline Trio at their most wittiest and catchiest.
When did Derek Grant leave Alkaline Trio and who is his replacement?
This past June, Grant announced his departure from the band after 22 years, citing mental health reasons and pursuing an interest in music production and visual art.
Derek's replacement is veteran drummer Atom Willard. Some of the bands Willard has previously played in include Against Me!, Rocket from the Crypt, and Angels & Airwaves.