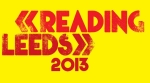 The initial line-up for the Lock Up Stage and the Rock Stage for this years Reading and Leeds Festival has been announced.
Alkaline Trio and Tomahawk will headline the Lock Up Stage with Sick Of It All, The Living End, RX Bandits, Quicksand, The Computers, Cerebral Ballzy, The Bronx and King Prawn joining them on the stage.
Whilst Enter Shikari's newly formed electronic alter-ego, Shikari Sound System will make its world debut as part of the brand new Rock Stage.
The band made the following comment about the project:
"Expect re-worked Enter Shikari tracks along with classic remixes and new surprises. Expect eerie live electronics and tent-peg-dislodging baselines. Expect a tour through many dance tempos and electronic genres that have been a constant inspiration to our band's sound. Combining both live instruments and percussion with dub-plate wizardry, this is one for the skankers, the steppers, the movers and the shakers."
Joining them on the Rock Stage are Funeral For A Friend, Gallows, Crossfaith, And So I Watch You From Afar, Arcane Roots and Heaven's Basement.
Click read more to view the full Reading and Leeds line-up.