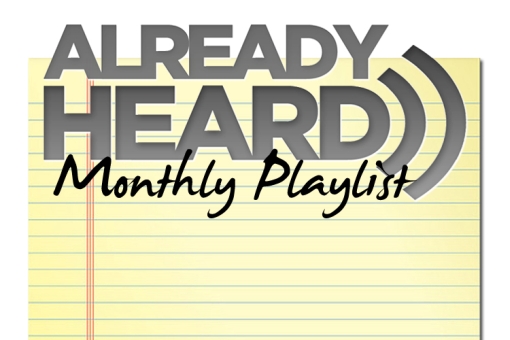 With a new month beginning brings a new Monthly Staff Playlist from us good folk here at Already Heard. Each month we bring you a playlist showing what the Already Heard team have been listening to.
Head on over to our Facebook page to tell us what you think of this months "Staff Playlist."
View the full playlist on our Youtube channel.
Mallory Knox – Beggars
Before seeing them support Finch on their recent UK tour, I was sceptical about Mallory Knox and was interested to see if they could back up any hype they had.
Thankfully with a mix of strong choruses, appreciative melodies and hard rock guitars, they left a great and lasting impression. Their latest single, 'Beggars' sums up all what is great with the quintet and 'Signals' is one of the best UK rock albums of the year so far.
They're out on the road on a headline tour this month and playing several festivals throughout the summer. (Sean Reid – @SeanReid86)
'Signals' by Mallory Knox is out now on A Wolf At Your Door Records.
Mallory Knox links: Facebook|Twitter
Allison Weiss – Making It Up
It's been a long time since an album has been repeated several times a day for days on end. Allison Weiss' second album 'Say What You Mean' has hit me at a time where every song seems to be like breathing. This opener is just a sample of the indie rock pop gems that Weiss is so brilliantly good at knocking out.
'Say What You Mean' by Allison Weiss is released on 15th April on No Sleep Records. (Mikey Brown – @MikeyMiracle)
Allison Weiss links: Official Website|Facebook |Twitter
Bring Me The Horizon – Sleepwalking
Most people have heard 'Sempiternal' in full, and it's a bloody great album. But 'Sleepwalking' sticks out in particular because, to me, it's just utterly raw and abrasive, with incredibly emotional lyrics. I reckon the BMTH lads have outdone themselves this time round. (Jessica Tagliani – @JessTagliani)
'Sempiternal' by Bring Me The Horizon is available now on RCA.
Bring Me The Horizon links: Official Website|Facebook|Twitter
Breed 77 – Bring On The Rain
Breed 77 are one of the most underated bands in the UK, despite their 17 year history. They released their fifth album 'The Evil Inside' last month and this is the first track to be released from the album. It is a classic example of their ability to fuse metal, rock and flamenco and a perfect introduction to the band if you have not heard them before. (Heather Fitsell) 'The Evil Inside' by Breed 77 is available now on Frostbyte Media Inc.
Breed 77 links: Official Website|Facebook
Diarrhea Planet – Fauser
Diarrhea Planet play rowdy punk rock. They released 'Loose Jewels' back in 2011, but theres a new record coming out on Infinity Cat in May. This is my favourite song on 'Loose Jewels' but every single track is awesome. The lyrics here are great and something about them really resonated with me the first time I heard it. It's also one of the best party songs ever. (Ryan Clayton – @clayton_ryan)
Diarrhea Planet links: Facebook|Bandcamp
Idle Class – New Shores
Absolutely storming, passionate melodic punk from Germany and five of the greatest dudes on Earth. With some mega shows and a full length coming up I'm just reserving my chance to say I told you so. (Tom Knott)
Idle Class links: Facebook
Shai Hulud – Reach Beyond The Sun
A song which lends its name to an album worth the 5 year wait. Shai Hulud have yet again surpassed themselves with their latest offering, and 'Reach Beyond The Sun' is a culmination of all the record has to offer. I simply can't stop playing it. (Jon Huntley)
'Reach Beyond The Sun' by Shai Hulud is available now on Metal Blade Records.
Shai Hulud links: Official Website|Facebook|Twitter
Finch – Letters To You
Back in '08 I went to see Finch when they reunited for their Self Titled EP (check it out, it's rad!) Before they played this song, Nate explained to the audience that it's not about a relationship or an ex as most people think; it's about a relative that died. About a week later a close family member of mine passed away so this song has really stuck with me. Which begs the question, why did I not get a ticket to see them last month!? (Carrie Anne-Pollard)
Finch links: Official Website|Facebook|Twitter|Bandcamp
Marnie Stern – Year of the Glad
The girl that shreds is back. With a little less focus toward the complexity of her musicianship, her songwriting appears looser, and all-together more juiced-up on that authentic rock n'roll approach. Opener 'Year Of The Glad' is a frenetic affair, but it introduces her newfound ability to construct songs around fun melodies as well as technique. (James Berclaz-Lewis – @swissbearclaw)
'The Chronicles of Marnia' by Marnie Stern is available now on Kill Rock Stars.
Marnie Stern links: Official Website|Facebook|Twitter
Hacktivist – Unlike Us
After hearing nothing but high praise for this UK band and seeing them in magazine "ones to watch" sections, I finally got round to checking them out. What I thought and heard were so far apart, I was at first shocked by what I was hearing but then I was instantly hooked at something totally new. What sounds like a tech metal band with some impressive tight sounding double bass drums, rumbling bass and some eerie yet heavy sporadic guitar work, it's impressive. Then add to the mix the fact that the two vocalists rap is just something you wouldn't expect to hear from such heavy music and it's refreshing to hear. With lyrics like "Haters step back 'coz you're taking the piss, Ain't got no time for your shit, We cause a commotion, We're smashing the scene, We're drawing in closer, The crowds will follow us, Sick of the mundane, Hacktivist – influential, With tunes so powerful, Set the beginning of change!" clearly show the band are here to stir things up and bring in some new sounding heavy music to the UK scene. The whole bands self titled EP has been on repeat for me for weeks now, for anyone who likes heavy music with abit of rapping thrown, in then check them out NOW! (Aaron Wilson – @soundslikeajw)
Hacktivist links: Facebook|Twitter|Youtube
Our Time Down Here – Black Ice & Bad Advice
Our Time Down Here have been a band for a good 7 years and in the last week hearts everywhere have been shattered as they announced they'd be splitting and playing one final tour. A band that have progressed with every record and really pushed the boundaries of their musical capabilities deserve to be remembered and have the send off of all send offs. If you haven't seen them before, you should before you miss out on seeing one of the best UK bands around and if you have seen them before, you know exactly what you're getting yourself in for. (Rosie Kerr)
Our Time Down Here links: Facebook|Twitter
Hang The Bastard – Sweet Mother
Despite going through a couple of vocalists, London hardcore infused metallers Hang the Bastard return with a their second album this year. Feeling comfortable with a new vocalist, the band have expanded on the foundations set on previous releases with something utterly evil. New song 'Sweet Mother' identifies roaring sludgy southern riffs, piercing Eyehategod style vocals which switch to a whisper, and a hint of eeriness. The band will head out on a UK headline tour in May. (Aaron Lohan – @ooran_loohan)
Hang The Bastard links: Facebook|Twitter