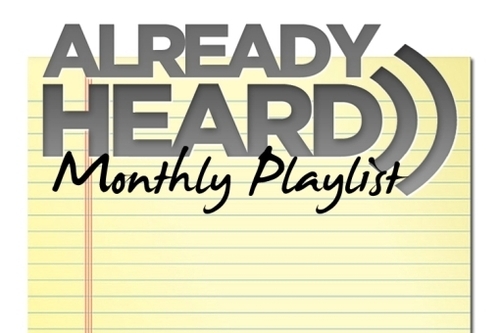 With a new month beginning brings a new Monthly Staff Playlist from us good folk here at Already Heard. Each month we bring you a playlist showing what the Already Heard team have been listening to.
Head on over to our Facebook page to tell us what you think of this months "Staff Playlist."
View the full playlist on our Youtube channel. Whilst a selection of this month's playlist can be streamed on Spotify.
Citizen – The Summer
In their debut full-length, 'Youth' Citizen have produced a surprising strong contender for 'Album of the Year.' Tracks like 'The Summer' are subtly grungey with a strong alternative rock edge, that sees the band abandoning their pop punk presumptions in favour of a mature, emotionally-driven approach. Throughout you'll find hints of Brand New, Balance & Composure and Basement as Citizen come off as a melodic band who have carefully crafted each song leaving you hooked. Trust me when I say Citizen and 'Youth' is certainly going to be getting a lot of attention in the coming months. (Sean Reid – @SeanReid86)
'Youth' by Citizen is released 11th June on Run For Cover Records.
Citizen links: Official Website|Facebook|Twitter|Tumblr
Maycomb – When The Time Comes
The recent burst of sun has really put me in the pop punk mood and so all of the hits are coming out. There's SO MANY different options I had for this, but I think Maycomb's debut 'I Opened My Heart To Caustic Things' really does need your attention. Easily my favourite pop punk band of the UK and massively underrated. Give them your time and they'll soundtrack your summer. (Mikey Brown – @MikeyMiracle)
'I Opened My Heart To Caustic Things' by Maycomb is out now on I Am Mighty Records.
Maycomb links: Official Website|Facebook|Twitter|Tumblr|Bandcamp
The Dillinger Escape Plan – Prancer
The Dillinger Escape Plan are a an absolutely vital band. Progressive, in as much as they structure their relentless energy amidst dynamic time-signatures changes, yet emphatically hardcore, the band have managed to streamline their sound into something that appears less cerebral, and that's to everyone's benefit. (James Berclaz-Lewis – @swissbearclaw)
'One Of Us Is The Killer' by The Dillinger Escape Plan is available now on Sumerian Records/Party Smasher.
The Dillinger Escape Plan links: Official Website|Facebook|Twitter
Have Mercy – Let's Talk About Your Hair
Having only just discovered this band as soon as I put their album ('The Earth Pushed Back') on I just really liked it. I'm a huge fan of the type of sound they have and this song is the perfect introduction to Have Mercy. I have had this song and the album on repeat for the past week and I think it will rank highly in my end of year list. (Colin Henderson – @colinah87)
'The Earth Pushed Back' by Have Mercy is available now on Topshelf Records.
Have Mercy links: Facebook|Twitter|Bandcamp
Lonely The Brave – Black Saucers
Following their well-deserved signing to Hassle Records last month, Lonely the Brave announced that a re-recording of 'Black Saucers' would be the first material to be released on the label, and dropped this fantastic lyric video to go alongside it. Featuring punchy guitars, an intense rhythm section and some of the most gut-wrenching vocals you'll hear this year, the track is also available for free download from their website. (Christopher Smith – @chrissmith_catp)
Lonely The Brave links: Official Website|Facebook
Searching Alaska – Our Defences
Searching Alaska have come a long way, considering they're just over one and a half years old. They recorded this stunning single with renowned producer Matt O'Grady and in turn, this single led them to being one of the winning bands of the Red Bull Studios Download competition – if you're going to Download, definitely check them out! Heavy, bone-crunching riffs mixed with Christina's strong, unique vocals makes them stand out from the crowd. (Jessica Tagliani – @JessTagliani)
'Our Defences' by Searching Alaska is available now on Bandcamp.
Searching Alaska links: Facebook|Twitter|Bandcamp
Whirr – Swoon
After a UK/Euro Jaunt with Title Fight, Whirr are gearing up for their next release 'Around.' This track sees them employing a heavier sound than usual, but still retaining the beautiful, ethereal vocals over lush soundscapes drenched with reverb. Perfect for those cool British summer nights, or those British summer days, when it just rains. (Ryan Clayton – @clayton_ryan)
'Around' by Whirr is released on 9th July.
Whirr links: Facebook|Tumblr|Bandcamp
Flood of Red – Whispers and Choirs
Flood of Red are on tour this month for the first time in what feels like forever! Having been locked away constructing album number two, they are finally ready to show the world whether this new material will stand up to it's predecessor, 2009's 'Leaving Everything Behind.' Judging by this song, and EP, last years 'They Must Be Building Something,' I have no doubts and leave that coveted 'Album of the Year' spot firmly open and for the taking. (Carrie-Anne Pollard)
A new album from Flood of Red is expected to be released on Superball Music later this year.
Flood Of Red links: Facebook|Twitter|Bandcamp